The Wonders of Maldives Seagrass
As you may have seen this week we pledged our support to to be a part of a growing coalition of environmentally-conscious resorts and organisations that recognises the importance of sea grass habitats in the Maldives.
I remember my first visit to the Maldives almost twenty years ago, the resort I stayed on had a very large area of sea grass and in the morning a member of the resort staff would come along and rake the beach, like raking up autumnal leaves back home.
Whilst I was not adverse to swimming in this area, what I didn't appreciate at the time was the importance of these sea grass beds.
Did you know?
A sea grass meadow creates a home for up to 20 times more fish! Up to 100,000 fish can live in just one hectare of sea grass.
Sea grass produces oxygen, stabilises sediment, protects shorelines, and gives food and shelter to marine life.
One hectare of sea grass can be a home for up to 19 turtles.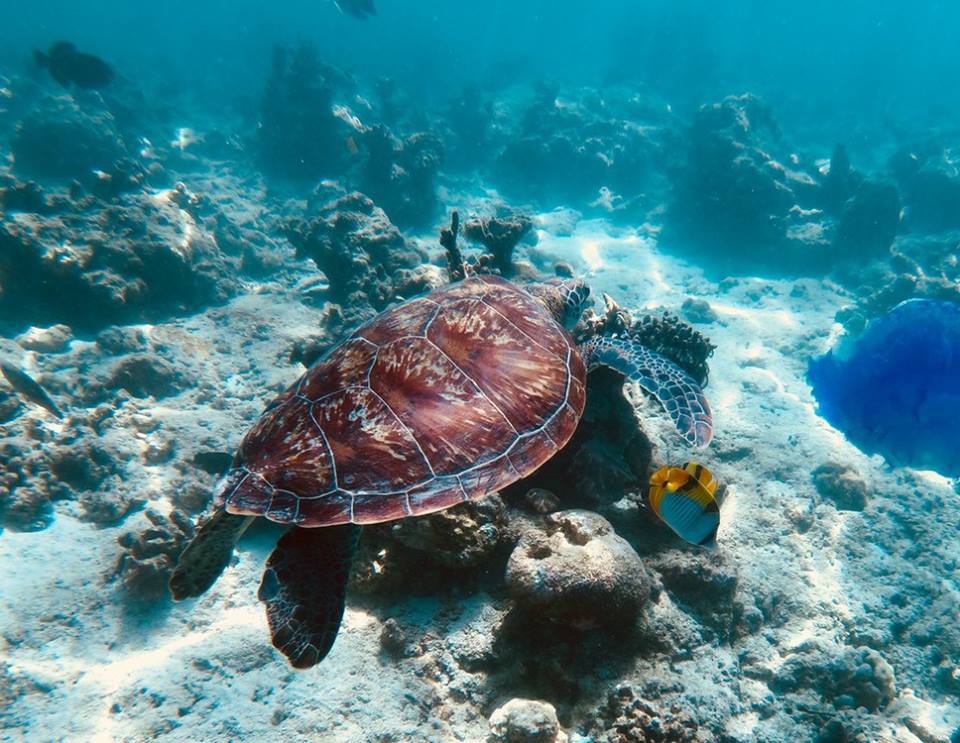 The story so far 
In 2016 the Maldives Underwater Initiative (MUI) and Blue Marine Foundation (BLUE), along with luxury resort Six Senses Laamu,  all joined together to demonstrate how sea grass and tourism can coexist and generate positive outcomes.
As their work gained momentum, the collaboration launched the #ProtectMaldivesSeagrass campaign, asking resorts, as well as the public, to pledge their support for the protection and preservation of sea grass beds in Maldives.
Marteyne van Well, Six Senses Laamu General Manager, explains the benefits sea grass has had on tourism since the resort pledged to help protect it almost two years ago. "Whether it's watching green sea turtles feed meters from their villas or snorkeling alongside eagle rays, numerous guests have praised us for pledging to help protect our sea grass. This feedback from guests shows that sea grass and tourism can coexist – with overwhelming benefits to all parties"

Why is Sea grass so important?
The following taken from The Edition's Protecting the green that gives blue oceans life
explains why.
Seagrass, by definition, is a complex underwater flowering plant that can form dense underwater meadows. These beds of grass grow in lagoons around islands, providing habitat for megafaunas such as turtles, rays, sharks as well as innumerable numbers of fishes and invertebrates.
Although it grows on the sea floor, seagrass photosynthesises just like terrestrial plants and act as a carbon sink that converts carbon dioxide from the atmosphere into oxygen. Moreover, sea grass helps to maintain healthy reefs and facilitates sustainable fisheries by providing a habitat for various marine animals.
In addition to this, the roots of sea grass dig deep into the sand holding the sea floor in place and protecting sandy beaches from erosion. Quite literally, these marine plants hold our islands in place.
Since sea grass is a completely different ecosystem from coral reefs, it is known to house certain marine creatures not typically seen in reef habitats. It is also a fun activity to search for signs of marine life within sea grass beds as many fishes and invertebrates hide under the canopy, and camouflage themselves by becoming all but invisible in their surroundings. Sea horses, a rare sighting in the Maldives, have been spotted hiding between the greenery of the grass beds surrounding Six Senses.
So should you take to the air and view the Maldives archipelago from your seaplane or domestic flight transfer or even as you arrive and depart on your international flight, look out for the handful of dark areas standing out against the aquamarine blue lagoons and remember that despite their insignificant appearance they are vitally important to the seas surrounding them and house an entire ecosystem within them.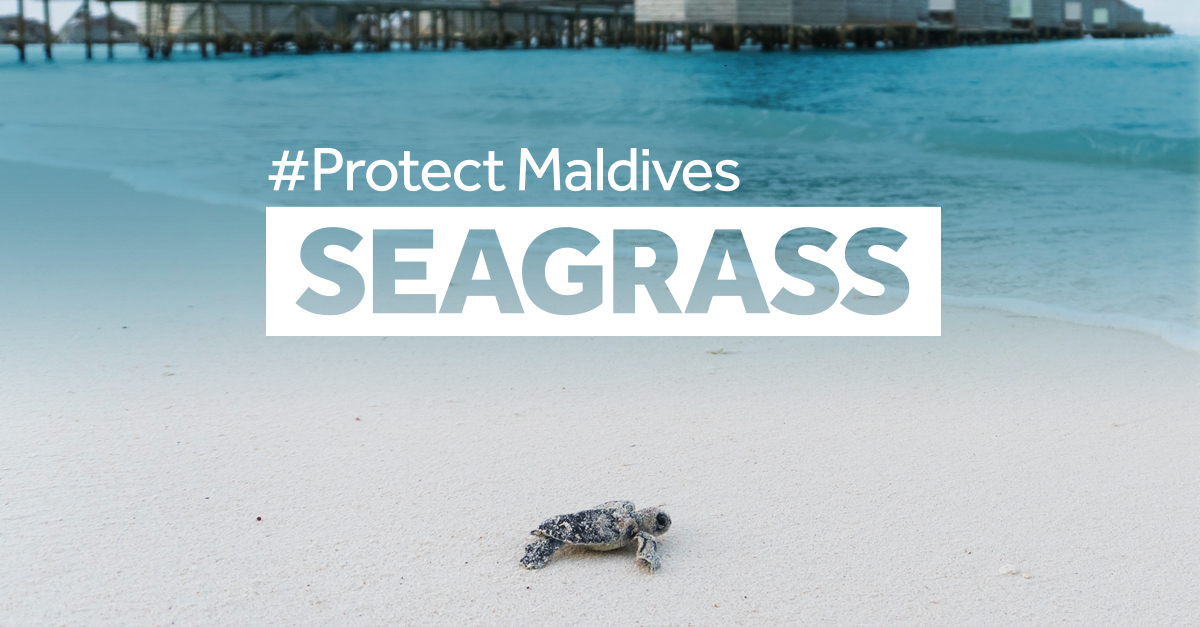 Join us and take a small step in a good direction.  Help secure the future of  Maldives sea grass and support our marine life, our coasts and our climate, go  to  #protectmaldivesseagrass  and add your name.
Want to learn more about seagrass book now to join us on our Discover Huraa day tour.