WHICH MALDIVES NGOs AND ORGANISATIONS DO WE SUPPORT?
People have always been the foundation of Secret Paradise and over time we have built three key communities.

– Our employee community
– Our local island communities
– Our NGO community & marine life organization friends and partners
We also aim to protect the environment and limit wherever possible any negative impact to local life and this is where our key communities play an important role in our business.
WHY DO WE SUPPORT NGOs AND MARINE LIFE ORGANISATIONS?
Supporting organisations and partners is not always about financial support.  We have sought out ways to open up channels to allow NGOs ( Non Governmental Organisation) the opportunity to interact with guests and in so doing increase their exposure to a wider audience. Many of our tours involve some form of conservation awareness or activity. You can spend time with NGOs gaining an insight into the conservation challenges that face local islands or social challenges that people within the local community may face.
We offer opportunities to get involved if you wish, supporting local conservationists on coral nurseries, attending beach cleans or events held within the community. Even on our Villimale day tour our guides and guests can be seen collecting rubbish as they explore the island.
As a business we try where ever possible to support environmental events organised by NGOs both financially when requested and in person. In the case of specific tours where guests are actively involved with an NGO such as Save the Beach or Maldives Whale Shark Research Program a proportion of our tour cost is provided in the form of a donation to their funds.
Many of our marine life organisation friends, such as the Manta Trust, have assisted in equipping our guide team with education and knowledge on their area of expertise for which we are indebted. This knowledge is in turn passed onto you our guest and also to local communities.
SAVE THE BEACH
Save the Beach (STB) started in 2007 as a youth movement in Vilingili, now known as Villimale, to conserve the beaches there. The main activity of Save the Beach at the time was hosting a cleaning event once a year. Save the Beach has carried out environmental awareness programs on waste management and on coral restoration and also planted trees in and around Vilingili, and participated in community activities throughout this time and has since inspired many cleaning events across the Maldives.
Save the Beach Maldives aims to conserve and maintain the beaches and reefs of Villimale and the Maldives. Led by Hassan 'Beybe' Ahmed who co-founded the movement along with the youth of Villingili, a conservationist from the time the first harbour was made when he noticed the reefs were dying, Beybe is the Maldives very own eco-warrior. Since it's registration Save the Beach has carried out many successful projects and programmes on Villimale and other islands and is actively involved in scientific research expeditions and the development of coral restoration sites and coral nurseries.
Find out more about STB on their website.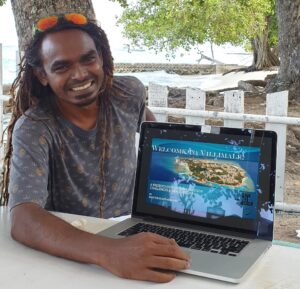 MALDIVES WHALE SHARK RESEARCH PROGRAM
The Maldives Whale Shark Research Programme (MWSRP) is a research-based conservation charity dedicated to studying the whale shark and fostering community-focused conservation initiatives in the Maldives and the greater Indian Ocean.
What initially began as a scientific expedition in 2006,  MWSRP has grown to become the only long-term organisation dedicated to study the iconic, yet vulnerable whale shark species in the Maldives.
Their goal is simple: they seek to advance the field of whale shark knowledge and to advocate for sound conservation policy in the Maldives. By encouraging and valuing community and industry stakeholder participation, MWSRP are able to leverage the scientific research to safeguard the rich biodiversity and fragile marine ecosystems that are the basis for not only whale sharks, but also life, livelihood and culture in the Maldives.
Find out more about MWSRP on their website.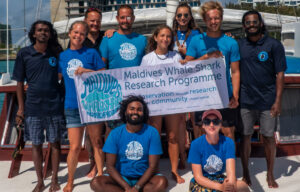 OLIVE RIDLEY PROJECT
The Olive Ridley Project (ORP) is on a mission to protect sea turtles and their habitats worldwide through rescue and rehabilitation, scientific research, and education and outreach. At the core of their work is a passionate and dedicated team of scientists, veterinarians, conservationists, citizen scientists and volunteers. ORP pride ourselves in being able to collaborate with a wide range of diverse groups in order to reach their goal and fill data gaps in sea turtle conservation.
In the Maldives there are currently have sea turtle biologists and veterinarians operating in Baa Atoll, Laamu Atoll, Lhaviyani Atoll, Noonu Atoll, North Malé and Raa atolls (6 of the 26 atolls). Furthermore two facilities have been developed to help with stranding events in the country.
There are three major challenges when attempting to protect sea turtles and their habitats in the Maldives:
Firstly, there is a significant lack of data on sea turtle abundance and distribution in the area.
Secondly, entangled sea turtles largely go undetected in the Exclusive Economic Zone of the Maldives.
And finally, there is a fundamental knowledge gap regarding the threats to sea turtles in the country and the impact these threats may have on sea turtle populations.
Through Rescue & Rehabilitation, Education And Outreach and Scientific Research, ORP Maldives work towards making the Maldives a safer environment for turtles.
Find out more about ORP on their website.

THE MALDIVES RESILIENT REEFS PROJECT
Maldives Resilient Reefs (MRR) is a marine conservation NGO working to restore coral reefs in the Maldives as climate resilient ecosystems for the benefit of people, nature and the businesses that depend on them. MRR work to support the coverage of well-managed and effectively enforced marine reserves in the Maldives to 30% and to implement locally tailored models of sustainable, small-scale fisheries that benefit Maldivian people by working closely with governments, tourism businesses, people and fishermen.
MRR is affiliated with British conservation charity, Blue Marine Foundation and is supported locally by Maldives Underwater Initiative by Six Senses Laamu.
Recent campaigns include Fish for Tomorrow, Protect Maldives Seagrass and Save Our Sharks.
Find out more about MRR on their website.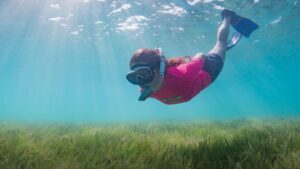 By choosing to travel with Secret Paradise, not only will you enjoy our island paradise home, but you will also actively contribute to the protection and conservation of the Maldives.