Have You Tried a Discover Scuba Dive in the Maldives?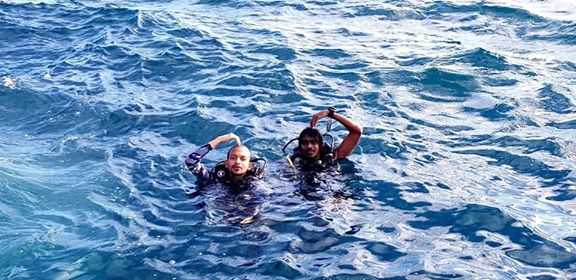 I am sure if you are a SCUBA diver you will recall where and when you had your first underwater experience. It's a magical moment of in-trepidation, discovery and wonder.  A moment that for many leads to new opportunities as well as new holiday destinations. The Maldives with year round warm waters and good visibility is perfect for your first SCUBA diving experience as our guide Maahee discovered recently.
"DSD or Discover Scuba Diving is as program from PADI (Professional Association of Diving Instructors), the world's leading scuba diving training organization. A quick and easy introduction into what it takes to explore the underwater world. Although this is not a scuba certification course, you'll learn all the steps it takes to be a PADI certified diver." https://www.padi.com/courses/discover-scuba-diving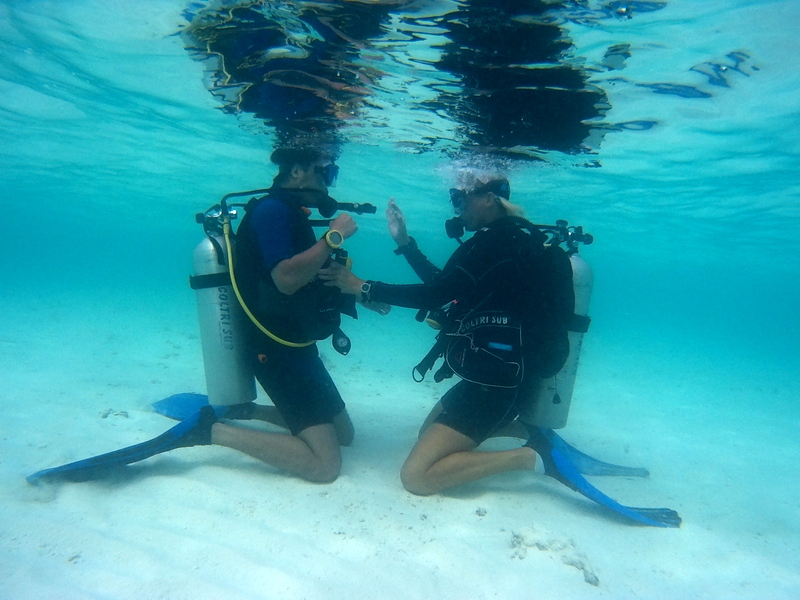 When I first joined the team at Secret Paradise Maldives as a tour guide, one of the tours I found myself leading regularly for our guests were the morning or afternoon snorkeling tours.
I love taking guests into the crystal clear blue waters in the Indian Ocean and exploring the coral reefs. I always make extra time during my tours to take our guests to the edge of the coral reef to see the beautiful deep blue sea and reef wall that is known as the terrace.
We always see many different types of fish and colourful coral whilst snorkeling on top of the reef but I always wondered what it would be like to dive deep down to the bottom of the ocean, was it really so different than this? What more could I really see?
I have seen many of our guests join a scuba dive day trip but had never had any experience of scuba diving myself.  I always dreamed of one day making a dive and I was so happy when my boss, Ruth the founder of Secret Paradise Maldives suggested I tried a Discover Scuba Dive (DSD).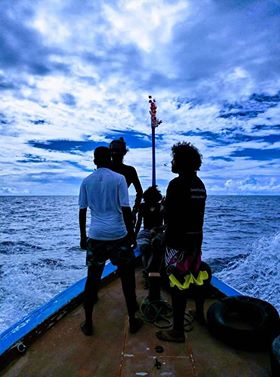 I was lucky enough to join a trip to Maafushi with the Secret Paradise team in September 2018. Secret Paradise runs regular team training trips staying at our partnering guest houses so that we can all experience where our guests are may stay and be able to talk knowledgeably about a location. We combined the trip with an opportunity to do a DSD dive so that I could finally experience what some of my colleagues have been doing for years.
In the afternoon we all went to the Eco Dive Club, Maafushi for registration and when we reached there I went in to the dive center to request an enrolment for the DSD dive. The dive instructor gave me a form to read carefully and fill in and then he asked me" Is this your first time?"
I said YES! The registration was easier than I thought.
After I registered my dive instructor gave me theory instruction on how to use the equipment. There was information about:
How to use the regulator
How to breath
How to inflate the jacket
Remind me not to hold my breath
How to clear water from the mouth by sharply breathing out from the regulator or I can press the mouth piece rubber of the regulator
How to clear water from the face mask
Plus much more
I then was fitted for the right size jacket, face mask and fins. My dive instructor ensured me he would stay close by to help me descend into the water.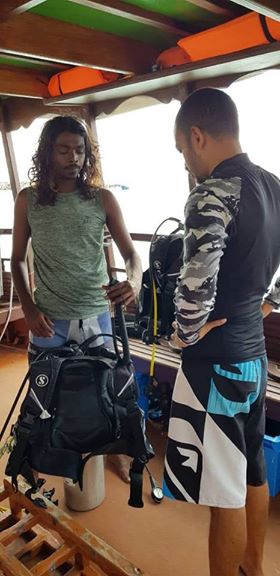 We then went down to the jetty at Maafushi harbour where we were met by the boat crew and captain. The crew were really friendly and reassuring. The boat captain explained we would be traveling about 20 minutes to get to our dive location.  The dive location was called 'Sexy reef'! It's a house reef of a sand bank.
When we arrived we were told to get ready with our dive gear. I was assisted to put my equipment together, about how to adjust the oxygen tank to the buoyancy control device (BCD)so that I wouldn't bang my head on the tank and how to inflate air into the BCD. Finally we checked the regulator to make sure it was properly working and we were ready to dive.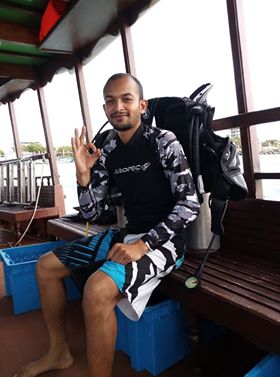 Whilst the rest of the experienced team got in to the water, I held back with my dive instructor so he could guide me into the water to do a practical test in the lagoon in about 5 meters depth. When we had completed this successfully my guide asked me "Are you ready?" I strapped on my face mask and said "YES!"
As you can't talk when diving, there is special sign language to use so divers can communicate at all times. Once we touched down on the seabed we practiced this, how to breathe, how to clear water from the mask and how to equalize the pressure. At this stage we were 5 metres deep and when I said I was ready to go my guide slowly took me down to 12 metres into the deep sea I had longed to visit for so long. He helped me inflate air in to the jacket and balance my body using extra weight hanging on a belt on my waist.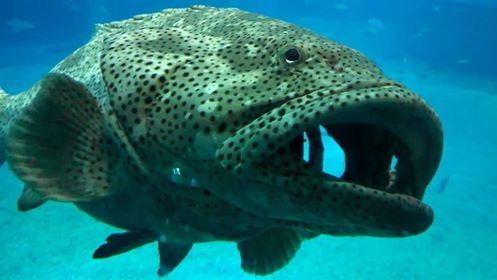 I was thrilled and excited to see the colorful coral, amazing fish swimming in the ocean and huge caves! I felt confident enough to try swimming in one of the overhangs to explore more and we both went through and out the other side, it was an amazing experience. The reef terrace was very rich in life even more than I could have imagined. There were sea anemones, different types of clown fish, lionfish and Giant grouper and these were just some of the exciting marine life I saw.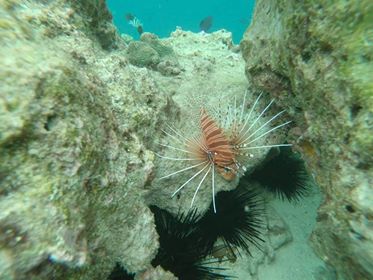 I was so busy enjoying this dive experience I almost forgot about my oxygen tank, until my dive instructor told me in sign language that it was running low and it was time to slowly ascend to the surface. We made a 3 minute safety stop during the accent to equalize the pressure and then in a short time we both came up to the surface.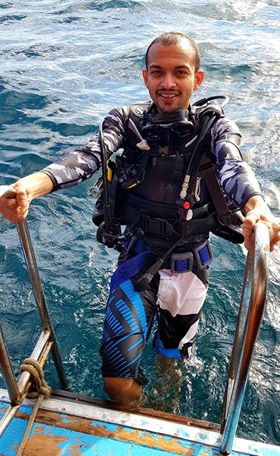 This is a life time achievement for me to try and I am so pleased Ruth provided me the opportunity to try such great experience!
I can personally recommend trying a Discover Scuba Dive if you are visiting the Maldives, it will really open up a whole new world for you.I can't wait to get back in the water and explore more of my underwater paradise home!
For more details about dive holidays for beginner and experiences divers contact our sales team sales@secretparadise.mv