TRAVELLING TO THE MALDIVES DURING COVID-19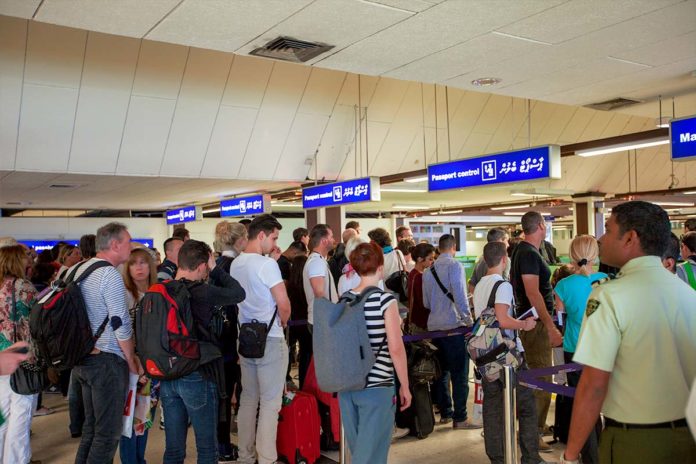 We understand that the uncertainty surrounding Novel Coronavirus (Covid-19) is making it difficult for many people to make future travel plans right now. It's stressful  and unsettling not knowing whether a destination that is unaffected today will still be safe in a week or a month and for most countries around the world the advice is to stay home as borders remain closed.
Whilst this article was originally published at the beginning of the pandemic we have continued to update in order that it reflects the most up to date information available and to assist you in understanding the situation in the Maldives and help you consider your plans for the future.
When the time is right to travel we recommend to check with your airline and insurance company for their latest advice.  Be sure to obtain all of your information from the relevant government travel advisory sites and official channels. Weigh up the pros and cons for yourself and make a decision that you personally feel comfortable with.
We hope the information below together with the links provided as well as information provided by your  country's government travel advisory will assist you to make informed decisions regarding travel to the Maldives with Secret Paradise.
What is the current situation in the Maldives?
Maldives has recorded a significant increase in COVID-19 cases since its first confirmed case in the capital city of Male' on April 15 involving a local woman that sought assistance from a flu clinic in Malé after developing symptoms.
The Health Protection Agency placed the greater Male' region under lock down on April 17. This lock down has been extended to the 28th May 2020. HPA also declared a travel ban between all inhabited islands across Maldives on April 16 as a precautionary measure to contain the spread of COVID-19 in the country. Lock downs have been extended to local islands.
The President announced on the 20th May that the Maldives would begin easement of restrictions on the movement of people for the operations of businesses once the lock-down order currently in place in the country expires on May 28. The President also stated that the arrangements to roll back the measures will be made under special arrangements and phases.
The Public Health State of Emergency has been extended to the end of June, however, a phased easing of lock down in the Greater Male' area will begin from the 28th May, with phase 1 allowing people to go out for more hours and some general businesses will be permitted to open from 28th May.
The first phase is to last for two weeks according to Health Minister Abdulla Ameen. Schools, government offices, cafes, and restaurants, as well as gyms and salons, are to remain closed during the first week. Health officials highlighted that easing the lockdown measures do not mean that things will go back to normal. They further added that lockdown measures may have to be imposed again depending on how things unfold.
Today 30th May 2020, Maldives currently records 1186 confirmed cases of COVID-19 with 1633 active cases, five fatalities and a total of 242 recoveries.
What measures have been taken in the Maldives?
The President advised that from 00.00 27th March 2020 The Maldives will temporarily suspend on arrival visas for all passengers arriving by air or sea. With the exception of those arriving with special permission granted by the government.
Stay safe, stay well, stay home and we and the Maldives will be ready and waiting to welcome you in the future.
The Maldives currently imposes travel sanctions on China, Iran, Italy, parts of South Korea, Bangladesh and all cruise ships. From 15th March restrictions are placed on those travelling from Spain and certain regions of France and Germany. These are as follows:
Germany- Bavaria, North Rhine-Westphalia and Baden-Württemberg.
France- Île-de-France and Grand Est.
The Maldives will impose travel sanctions on the UK from 00:00 hours 19th March 2020 and Malaysia as of 18:00 today 17th March 2020 and United States of America from 18th March 2020.
Travel sanctions imposed on Sri Lanka from 21st March 2020.
Entry will be restricted to all persons, regardless of nationality, who have these countries shown as their port of embarkation or have transited through or have traveled within either of these destinations along with those destinations already enforced within 14 days of arrival date in the Maldives.
The Government of Republic of Maldives has restricted all direct inbound flights from these destinations and has restricted the entry of all persons, regardless of nationality, who have these countries shown as their port of embarkation or have transited through or have traveled within any of these destinations within 14 days of arrival date in the Maldives.
Maldivians travelling from any country will be subject to 14 days of quarantine, once they arrive in the Maldives. As a further precaution, the Government has also advised Maldivian nationals against all none essential travel to countries where cases of Covid-19 have been confirmed.
As advised by WHO there is entry screening for all international tourists and Maldivian citizens arriving to the Maldives on international flights. Guests will be screened for temperature upon entry and all arrivals will be asked to complete a health declaration card as part of the standard immigration process.
Health Protection Agency / Maldives (HPA) announced a temporary restriction on tourists checking into hotels and guesthouses within the greater Male' (Male', Villimale', Hulhumale) area for 14 days from 00:01 15th March, 2020.
The Director General of Public Health issued an order to halt the travel of any persons to and from resorts to any residential local island within the Maldives. This travel ban will come into effect at 18:00 hours Saturday 14th March, and will remain in effect for the next 14 days.
There are also a number of local islands that have instigated self-protection regulations. As of 15th March, 2020 these islands include: Ukulhas,  Thoddoo,  AA Maalhos, Dhigurah and Omadhoo
From 18:00 17th March  2020 there is a 14 day temporary suspension of tourist check in to all local island guesthouses and city hotels. Guests who have already checked in prior to this time can remain for the duration of their original booking dates.
23rd March 2020 the extension ban on all excursion activities being offered throughout the Maldives is extended until further notice.
Transfers: From March 17th, 2020, all transfers for tourists to local islands will be by tourist only speedboat and local ferries will not be used until further notice. Domestic flight transfer options operate on a reduced schedule to those islands further afield.
Announced 17th March that Government offices will be closed from 00:00 19th March to 29th March 2020, banks will be opening for limited hours. All other office businesses are advised wherever possible to allow employees to work from home.
From 00:00 20th March, 2020 Greater Male ( Male, Hulhumale and Villimale) all cafes and restaurants as well as non essential stores will be closed in addition to the already closed mosques, parks, gyms and public spaces. The population of the capital is being encouraged to remain at home.
If you have bookings for a local island stay we would recommend you contact your booking agent or guesthouse for further information.
All liveaboard and cruising operations have been suspended and entry to Maldivian waters to international passenger cruise ships and private vessels is restricted from 00:00 20th March 2020.
The following sites will provide specific details to the Maldives as updates and changes are made:
https://www.tourism.gov.mv/latest-update-on-novel-coronavirus/
For further information and updates relating to travel to the Maldives refer to your country's foreign office travel advice website.
Is Secret Paradise still operating tours?
The simple answer is 'no'. Whilst we are guided by travel advice given by the Maldives Government we have decided that as of 17th March we will not be operating  tours of any description or offering local island accommodation for a minimum period of 60 days.
Day Tours: We will continue to welcome future bookings under the cancellation policy shown below.
Multi Day Tours:  We will continue to welcome future bookings under the cancellation policy shown below. Some aspects of the itineraries may need to be updated to take into account government restrictions at the time of travel as well as out of respect for the local communities we operate with.
Can guests cancel from tours?
If the destination government of any guest who booked direct with us advises against travel to the Maldives or a guest falls into any of the travel restrictive categories highlighted by the Government of the Maldives then we will offer guests the opportunity to defer their booking to a later date or offer a full refund of all money paid.
Can guests transfer their planned tour to another date?
Yes, we have taken the decision to allow all guests to transfer their booking if they wish to a later date, up to and including 30th October 2021 at no charge.
Will my insurance company cover me?
If you want to cancel your trip because you are worried you might catch Coronavirus, you may be covered by insurance as long as you booked before January 30th, which is when WHO declared this Coronavirus as a global health emergency. Contact your insurance provider in the first instance.
Many insurance companies are now offering travelers the option of a Cancel-For-Any-Reason (CFAR) policy add-on. This means, basically, that you can cancel your trip for any reason and be covered in full or a large part of it. If you're planning to travel later in the year and are yet to book, CFAR is worth looking into and will certainly offer some peace of mind.
Has Secret Paradise changed it's cancellation policy for new bookings?
We have updated our Cancellation Policy with immediate effect and it is applicable for all local island accommodation and multi day tours.
This policy is applied to all new bookings made from 11th March 2020 to the 31st October 2021, covering stay dates until the 31st October 2021. New booking date period will be reviewed as the situation evolves and changes.
For cancellations made and supported on the basis of Government travel advice there will be no charge.
For cancellations received 7 days or more prior to arrival date, there will be No Charge.
For any cancellations received 6 days or less from arrival date,there will be a 50% Cancellation Fee or the opportunity to defer booking to a later date period free of charge.
Our day tours remain with 100% free cancellation.
What steps are we taking to protect guests travelling with or on tour from Covid-19?
Secret Paradise has been monitoring the Covid-19 since its outbreak in relation to it's impact within the Maldives. All of our Guides &  Leaders have been briefed on identifying symptoms of Covid-19 and what to do in the event somebody presents with symptoms as per the guidelines provided by The Ministry of Tourism.
Guest briefings for all arrival guests include the WHO advice and guidance on how to reduce the risk of catching Covid-19.
All guides carry antibacterial hand wash as a matter of course at all times of the year and will continue to do so ensuring additional supplies available.
Guides use the hand on heart welcome gesture instead of hand shaking.
Guest updates provided as the situation or measures evolve/change.
What can you do to reduce the risk of catching Covid-19 whilst on tour or at home?
The World Health Organisation have issued the following guidance;
Frequently clean hands by using alcohol-based hand rub or soap and water;
When coughing and sneezing cover mouth and nose with flexed elbow or tissue – throw tissue away immediately and wash hands;
Avoid close contact with anyone who has fever and cough;
If you have fever, cough and difficulty breathing seek medical care early and share previous travel history with your health care provider.
The key message is the need for all of us to increase our hand washing and general hygiene practices, which will not only prevent the spread of Coronavirus but other viruses that could be present.
The situation is fluid and we will continue to keep guests who have a booking with us updated on any developments, in the meantime if you have any specific questions, need further reassurance or advice please do not hesitate to contact us.
As for us, Secret Paradise will still be here post Covid-19, thank you for your support and we look forward to welcoming you.
Wishing you safe and happy travels.
Ruth
Co-Founder Secret Paradise