WHAT TO EXPECT WHEN ARRIVING IN THE MALDIVES
Welcome to the Maldives!
As your plane breaks through the clouds revealing our tropical islands below, the assent into Velana International Airport, Male must be one of the most breath taking and at this point it probably hits you that you will be holidaying in paradise!  Arriving to any destination which you have not visited before can sometimes be a little daunting and therefore we asked Hoo, one of our airport guides to fill us in on what to expect.
Arriving to airport
Unlike at many airports you will in The Maldives disembark your aircraft down a set of steps directly onto the tarmac. I have heard many tourists describe the moment of leaving the coolness of the aircraft cabin into the tropical climate of the Maldives like stepping into an oven! Depending on the location of the aircraft on the parking apron it may just be a few steps into the airport building or if the distance is further,  for your safety you may find that you will board a bus for a short ride to the arrival building entrance.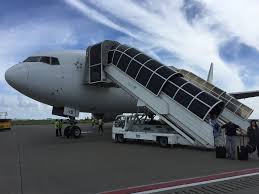 Maldives Immigration
First stop is immigration, no matter which nationality you are! If you are visiting The Maldives for your vacation, no prior visa arrangements are required, you will be granted a 30 day free tourist visa upon arrival. A passport valid for 6 months and travel documents (flight tickets) are necessary. You will need to present a landing card which may have been distributed by the crew of your flight. Alternatively, you can find cards immediately before the immigration counters. To obtain immigration clearance it is also a requirement to indicate on the landing card an address or provide proof that you have a booking at a resort, guest house or safari boat. Without pre booked accommodation you may well be refused entry and Immigration will assist with the booking of your first night's stay, for which you can expect to pay considerably more than the standard room rate.
It is worth while noting that the immigration hall is not very large and therefore when a number of international flights have all landed within a few minutes of one another it is likely to be crowded and potentially there will be queues to contend with. Your patience will pay off as you are then unlikely to have to wait for your luggage! Stand behind the yellow line until it is your turn to approach the immigration counter, all people travelling together should approach and hand over passports and immigration cards.  You may be asked questions about your stay and as mentioned may be asked to produce additional documentation. Once Immigration is satisfied they will stamp your passport and you are free to enter!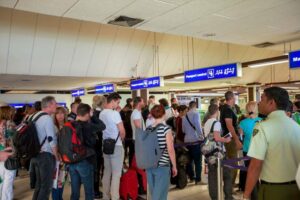 Baggage Hall
After Immigration you will pass through a security check where your hand luggage will be screened. As with all international airports remove electronic items from your hand luggage and place separately in the trays provided. Following this security check your next stop are the baggage carousels. To find out the right baggage carousel for your flight, check the display on the screen above each belt.  Your luggage is security screened before you receive it at the baggage claim. However, you might be asked to do a second screening, if your luggage contains items that are restricted or prohibited to bring into The Maldives or if you have items that are for commercial use. You might be asked to declare such items when you make your way through Customs, hence, it is advised not to purchase liquor and alcoholic products on your flight or at duty free shops en route to the Maldives.  Should you be found to be carrying prohibited items Customs will hold these items and you will be provided a receipt which you can use to get these items returned to you on your departure day.
Importing goods such as alcohol, pork items, pornography (very broadly defined), religious materials offensive to Islam, idols of worship, narcotics and psychotropic substances, explosives and weapons into the Maldives is strictly forbidden. Alcohol and pork products under a special license are available in resort islands. On the way out, note that exporting sand, turtle shells, seashells and a range of marine products is also forbidden.
Should you be unfortunate not to locate your baggage on the carousal, the Baggage Service desk is just in front of baggage claim area. Here you can easily report your lost or damaged bag and provide contact information to allow the team to keep in touch with you. They offer a free of charge porter service for all passengers in order to allow you to continue on to your destination. Just ensure you have copies of all the documentation as if you wish to follow up you will need the appropriate reference number.
International Arrival Hall
After collecting your luggage and passing through Customs you will pass through one of to automatic doors into the main arrival hall where  you'll be welcomed by your hotel representative or the booking agent representative. Considering tourism is the highest source of  income in the Maldives and with over 1.3 million visitors last year you will see a huge crowd of representatives and sign boards as you walk through the doors. It can be quite over whelming. If you have not been given a specific airport counter number to report to on your arrival/booking confirmation information, take your time and walk along the lines looking out for the logo board of your resort, liveaboard, hotel or travel agent. There is no pattern or specific location for each of the property representatives, although the Luxury premium 5*+ resorts will generally always be located on the immediate left as you walk through the automatic doors.  Should you be unable to find your hotel/agent representative, don't be afraid to ask another of the reps there. They will all know one another as this is their territory after all. You can also enquire at the information counter which is located in front of the pharmacy and left luggage.
Your airport representative will have the responsibility to assist with your onward transfer and should also be able to answer any immediate questions you may have. Regardless of mode of transfer – domestic flight/ speed boat/ sea plane/ public ferry or vehicle you may be asked to wait at the airport for a period of time whilst other passengers arriving from flights that have landed at around the same time clear Immigration and Customs.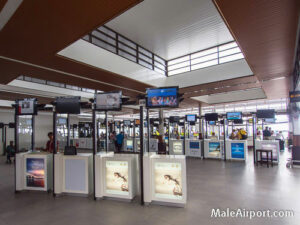 Other Services
Whilst at the airport you can easily exchange money from Bank of Maldives Currency Exchange counter which can be accessed both before you enter the arrival hall, directly after Customs and then also in the arrival area itself. If you are travelling to a resort it is unlikely that you will require local currency but if travelling to a local island it is worthwhile having some local currency on hand. There are also ATMs at the international and domestic terminals which dispense local currency. USD is not available to non residents.  However, if you exchange money at the airport Currency Exchange it does mean that on departure you can easily exchange local currency to the currency the you changed on your arrival day, just remember to hold onto the exchange receipt.
If you are anticipating on keeping in regular contact with friends or family at home or more likely posting images on social media to make everyone jealous, it is advisable to purchase a Maldivian SIM card. There are tourist packages available with various amounts of data at either of the two local tele-communication providers – Ooredoo and Dhiraagu, both of which are located next to The Dhovemi Arrival Shop and opposite the seaplane check in counters.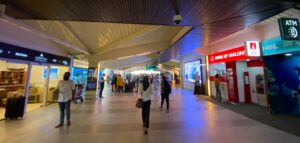 Should you be looking for refreshment whilst you wait there are plenty of food and beverage outlets to select from including:  Coffee Club, Thai Express, Burger King, Pizza Company. Opposite the domestic terminal there is a further food court offering Secret Recipe, Costa Coffee, Pizza Hut, KFC, as well as a local cafe at the domestic terminal entrance. Payment can be made by credit/debit card, USD and local currency. Eat in and take away are available and don't forget to refuse the plastic straws!
For  those arriving who may be smokers, Velana International Airport is a no smoking area. However, you will be pleased to learn there is a smoking area located to the right of the jetties that sit across the road from the food court after the departure gates. If you are not sure just ask an airport representative. You will also usually find a number of the reps in the smoking area so don't worry if you do not have a lighter to hand.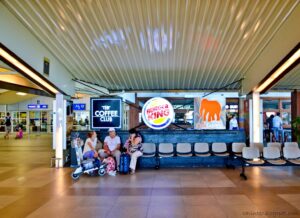 Often after you've just landed you may need a place to relax and freshen up before continuing your journey. There are public toilets and shower facilities located in the corner between the pharmacy and left luggage. There is also the Wellness Lounge.  Here you can enjoy snacks and drinks, hop on the WiFi, or catch up on the day's news. Showers and salon services are available for an additional fee. This land-side lounge is open to all travelers, regardless of airline or flight class. To gain entry, pre-book a lounge pass, use your lounge membership program, or pay at the door.
Other facilities that may be useful to be aware of include Left Luggage, the current rate is $6 for one item of baggage for a 24 hour period. A post office where you can purchase postcards and stamps – do people still send postcards these days? A Pharmacy for any forgotten medical requirements as well as toiletries and sunscreen, a Prayer Room and for the security and safety of all passengers there is a Tourist Police station.
For more travel advice and information check out our Maldives travel Information page.