WHAT'S IT LIKE TO ISLAND HOP WITH SECRET PARADISE MALDIVES?
With so many options of travel, accommodation and activities in the Maldives, we know it's not always easy to always make a decision as to how to travel, where to stay or with which company to book.
Secret Paradise Maldives may be an award winning tour company, but we appreciate that it is the experience of our fantastic guests who have traveled with us that really tells the story of what it is like to join a guided tour and experience the best the Maldives has to offer.
Read on to hear about the experience and feedback from just two of our guests who both traveled with us in December 2021.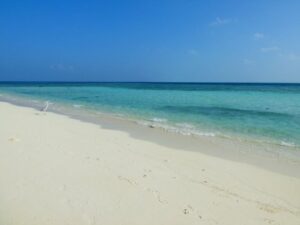 Lisa E a Brit based in the UAE shares her South Male island Hopping Tour experience with us.
I booked a private island hopping tour for mid December 2021, staying on islands in South Male Atoll – Hulhumale, Guraidhoo, Maafushi and Gulhi.
I was met at the airport by UB, my guide, who helped immediately with guidance on money exchange (with the trip including all accommodation, tours, most meals, water and transfers, I really didn't need much money), where I exchanged some dollars (make sure they're new notes and not crumpled) to local currency. Then we took a taxi (UB organised EVERYTHING!!!!) to the accommodation for the first night.
The week's trip then consisted of travelling to each of the three islands and staying 1, 2 or 3 nights on each. Every day was organised via the itinerary that was sorted in advance by Ruth via email in the weeks leading to the trip. Ruth was incredible at communicating and was so helpful that I felt complete trust in the company and, although normally a very anxious traveler, was completely at ease with everything both before and during the trip.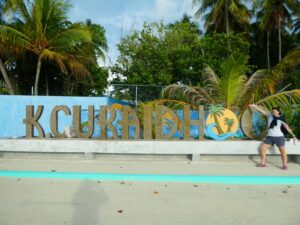 Each day had one or two activities like snorkelling trips or tours and so had a really nice balance of being busy exploring, whilst also having my own free time to roam about the island, chill on the beach etc. All the trips were fantastic and again really well organised. I saw so much wildlife whilst snorkeling where UB was right there pointing things out (his knowledge is incredible), including 3 types of shark, sea turtles, stingray and sooooooo many beautiful fish!
LOCAL ISLAND GUESTHOUSES
These were all organised too and were local guest houses on the local islands. All were really great. Spotlessly clean and just ideal for me with each having an en-suite bathroom and water provided. I had initially been wondering if I'd have to find a shop to buy bottled water but this wasn't necessary as this was provided, some provided more sustainable, glass bottles filled with their desalinated and then filtered water which was great. The beds were all large and very comfortable too. The staff at each guesthouse were super helpful and when I had a minor issue with the shower/electricity in one room they sorted it immediately, so it was no problem at all.

LOCAL ISLAND FOOD
I am a really fussy eater in that I am very picky. UB and the guesthouses were so accommodating for me and nothing was any trouble at all. All the food was great especially the fresh fish. If you are more adventurous than me (not hard) then you will thoroughly enjoy trying the local dishes as there is so much on offer. Breakfast each day was provided and had plenty of choices where all was fresh and tasty.

All three islands were fantastic. Maafushi is by far the most touristy with a fair few hotels, cafes, watersport centers etc and had a really chilled vibe, wandering around in the evening was fab with live music one of the nights being a highlight. Restaurants are not expensive and drinks were good (all non alcoholic of course but lots of non alcoholic beer options). Gulhi island was tiny but really beautiful and the beach was amazing there.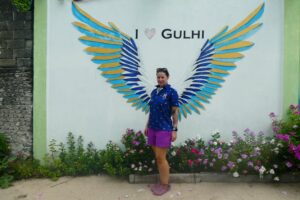 So Secret Paradise thank you so much for everything – it really was a perfect trip and the best 40th birthday present to myself.

If you are thinking of booking a tour, I really couldn't recommend this company highly enough and personally I'm already saving up to book with them again for a trip to another atoll. The cost of my trip was so much less than a week on one of the private resort islands and I am so glad I chose to do the tour rather than the private island as I saw so much more of the Maldives, experienced so much and had such a great time
Also travelling at the end of 2021 was Justin B who had traveled from the US to join us exploring South Male

Secret Paradise Maldives helped show me the true beauty of the Maldives beyond the all-inclusive luxury resorts on private islands.

I had been planning my trip for months, but due to changing global circumstances, it kept getting postponed. Communication with Ruth was an absolute pleasure. She was transparent, honest, and punctual. Exchanging e-mails with her was the main reason I decided on booking with Secret Paradise!
ISLAND HOPPING IN PARADISE
I decided on the South Male Island Hopping tour and absolutely loved getting to immerse myself in the local culture while also enjoying the water activities Maldives has to offer (which are usually triple the price at resorts). The itinerary had a great pace of mixing activity and leisure time. I loved being able to explore on my own and also have a guide for part of the day.
My guide, Kamey, had a good understanding of the Maldivian history and his skills as a guide were best when we were in the water. He made me a better swimmer in just one afternoon and took incredible footage with my GoPro for places I couldn't reach!

SUSTAINABLE VALUES
Ruth and her team were very thoughtful in making sure the money that I did spend went back to local people and businesses (hiring local people, using locally-owned hotels and businesses). They are also a deeply eco-conscious company (which is apparent in the tours/activities they offer) and even provided me with a metal straw and bpa-free water carrier which was a nice touch. My late afternoon hedhika experience with Beybe (from Save the Beach Maldives) and his assistant Irena learning about their coral and beach-saving initiatives was a highlight of my trip.

MALDIVES LOCAL ISLANDS
– Guraidhoo! Loved the pace of the island and how it was small enough to explore in a day but it had many options for dining and hotels! My favorite area was relaxing on the swinging seats by Kasimbe Cafe. The best juice on the island is at Amore. I loved my stay at Rosy Villa in room 204 which has the private balcony overlooking the street rather than into the courtyard facing all the other balconies and rooms

– Maafushi! Much busier than Guraidhoo and very developed for tourism. Mas Roshi was the best juice bar in all the islands I visited (they have a special coconut papaya and coconut mango drink I had to get twice a day when I was there!) The shop is moving soon though, so look up where they relocate to when you visit! Also the newly opened Triton Prestige is the only locally-owned luxury hotel overlooking the beach which had some beautiful rooms and views! Shout out to Maamuda Water Sports for an incredible first-time parasailing experience! Such a friendly, supportive team (with the most colorful parachute) and an unbelievable drone operator who took some professional footage of me floating in the air!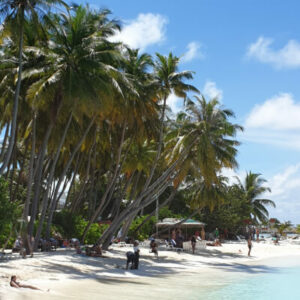 Thank you, thank you to Ruth and Secret Paradise for sharing with me the true beauty of such an incredible island nation! I will definitely return and I will definitely reach out to Ruth again for when I explore another part of the Maldives!
BOOK YOUR ISLAND HOPPING TOUR NOW!
Come and island hop with us, we offer island hopping tours in a variety of different atolls and offer private individual or group travel for people of all ages. It is not just for young adventurers, it is also for the young at heart! Our team of passionate and experienced guides are ready to provide you the best service and experiences that you deserve. 

Are you ready to book now?  #letusguideyou