WHAT IS THE BEST ISLAND TO VISIT IN THE MALDIVES? – SOUTH MALE ATOLL
Want to know which is the best island to visit to visit in the Maldives or why the local islands of the Maldives remain our best kept secret?
This breathtaking destination is perfect for all types of travellers. Whether you're a solo backpacker on a budget, an adventure-seeking couple, or a group of eco tourists, you'll definitely find something that suits your needs. That's the wonderful thing about the Maldives – it has so much to offer for everyone.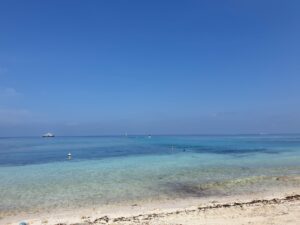 White sandy beaches, sparkling tropical lagoons, tall palm trees. Sounds like the perfect getaway, doesn't it? And here's an added bonus – the rich and vibrant culture of this beautiful destination.
Our guiding team share their personal recommendations in order that you can find a local island to suit your needs.
Looking for a social vibe with plenty to do? Head to Maafushi
Many people dream of visiting the Maldives but simply cannot afford luxury resort prices. But here's the good news – you can go on holiday in the Maldives on a budget.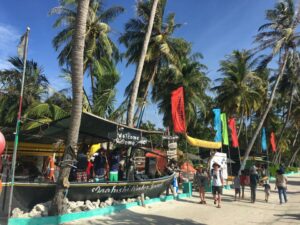 Maafushi is an ideal destination for travelers on a budget. This was the first island in the Maldives to introduce guesthouses and promote local tourism. Enjoy a mix of beach relaxation on the island's tourist bikini beach and ocean-based activities on this fun, lively island. Try exciting water sports like parasailing, jet ski or diving. Want to experience a more relaxed activity? Then join a dolphin cruise that everyone can enjoy. Maafushi also has plenty of souvenir shops, restaurants and local cafes to choose from and even spas for the ultimate indulgence.
With ease of accessibility to the international airport by ferry or speedboat the island of Maafushi is the busiest of all local islands and with over 30 approved guesthouses and hotels providing more than 1600 beds ( June 2021) you will be sure to find plenty of like-minded tourists to make new friends as well as a hotel or guesthouse to suit your budget. Certainly in Maafushi you won't run out of things to do on this budget-friendly island.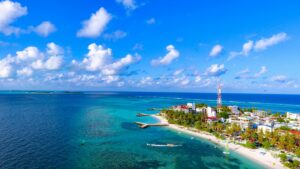 During 2020 a project to reclaim land from the lagoon adjacent to the southern part of Maafushi was undertaken. The project introduced a new concept of development as the reclamation area is bridged with the existing island with the land planned to include areas for social housing and local tourism as well as a business zone, mixed-use zone and an open space area for public recreation. Development remains work in progress.
ATM Available.
35 Minutes from Male Airport by speedboat
Zaff's TOP TIP: For a quieter stay select a property located on the southern part of Maafushi.
Join us on Maafushi as part of our 4 Night Maafushi Experience.
Live Like a Local on Guraidhoo
This quiet fishing island in South Male Atoll is ideal if you are looking for a culture based holiday. Local ferry transfers from Male mean Guraidhoo is ideal for the traveler on a budget and is popular with divers and surfers as well as those looking to experience the real Maldives.
Wander the sandy roads of Guraidhoo and observe locals going about their daily routine. Sit and watch the sunset alongside the locals on the public beach or kick back in a traditional seat called a 'joali' and watch the world slowly pass by. Guraidhoo is a regular stopping point for safari boats and local shops have offer all kind of souvenirs making it an ideal location to pick up a memory of your holiday.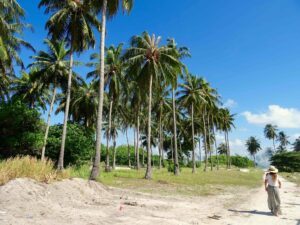 What the island lacks in the way of a tourist bikini beach it makes up for with a decent house reef accessible direct from the island. There are chances of encountering Turtles, Stingrays, Octopus and many more fish among the many types of coral.  A land reclamation and shore protection project was recently completed in Guraidhoo adding an additional 15 hectares of land on the western side of the island, which may mean some guesthouses that were beach front may not be in the longer term.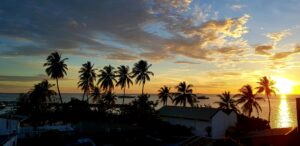 There are water sports and diving centers providing plenty of activities and excursions. With some great dive sites –  Kandooma Thila for example and surf breaks including Rip Tides, all within easy reach and a number of luxury resorts should you wish to indulge in a resort day visit, Guraidhoo is the ideal location to enjoy the real Maldives and an active holiday.
ATM Available.
45 Minutes from Male Airport by speedboat
UB's TOP TIP: Look for locally crafted souvenirs made from coconut wood and avoid purchasing shells and coral product
Join us on Guraidhoo for our 3 Night Cultural Break
Soak up the sun on Gulhi
Gulhi also located in South Male Atoll is easily accessible from Male and is close by to Guraidhoo and Maafushi. Visiting any one of these islands means you can island hop with local ferries (except Friday where there is limited transport). One of the joys of Gulhi is that  you will see only one or two vehicles and because the island is only 700×500 you really don't need one!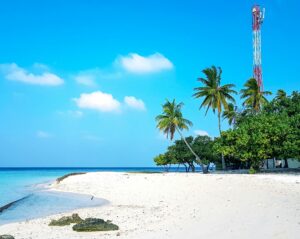 This tiny quiet island's main economy is fishing and it is also home to the oldest dry dock boat yard in the Maldives. Wander round Gulhi boat yard and see the locals hard at work developing, refurbishing and fixing all different types of vessels, from the fishing dhoani to luxury liveaboards.
Gulhi has two beautiful white sand tourist bikini beaches equipped with sun loungers and parasols and is ideal for a holiday where relaxation and sun bathing is the priority! There is also an ocean swing! Gulhi was one of the few islands that hosted tourists during the early 80's, when local islands were allowed to provide a bed and breakfast service. The locals are friendly by nature and readily welcome visitors to their charming island. There is often a small souvenir market set up by the entrance to the main bikini beach.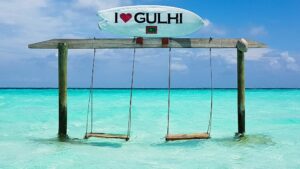 Gulhi's house reef is worth getting up off your sun lounger for, enter directly from the bikini beach but be aware there can be a strong current. Water-sports and diving are available but be sure to plan ahead to avoid disappointment due to prior bookings.
ATM not currently available.
20 Minutes from Male Airport by speedboat
Zaff's TOP TIP: Evenings on Gulhi are very quiet so pack a book, a pack of cards or have a few films downloaded.
Join us on Gulhi as part of our 7 Night South Male Island Hopping Tour.
Details of all local island guesthouses and hotels that have received approval from the Ministry of Tourism and have processes and plans in place to operate within the guidelines laid out by the Maldives Health Protection Agency (HPA) is updated regularly here.
Still not sure which island is for you? Contact the Secret Paradise team who will help you to select an island or even islands that are right for you and your holiday budget.