WHAT IS THE BEST ISLAND TO VISIT IN THE MALDIVES? NORTH MALE ATOLL
One of the most common questions we receive is 'what is the best island to stay on?' With so many local islands to choose from it is important that you have an understanding of what your requirements are from your stay in the Maldives, as like resort islands, local islands offer different environments, facilities and amenities.
As we continue our series of local island guides our guiding team share their personal recommendations in order that you can find a local island to suit your needs in the Maldives.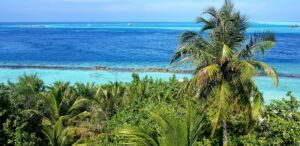 Catch the Waves from Thulusdhoo
Located in North Male Atoll, Thulusdhoo is a popular destination for surfers. Spend your holiday in this surfers' paradise and be captivated by the island's relaxed vibe, white sandy beaches, turquoise lagoons and fantastic surf breaks.  Also on Thulusdhoo you will find the only Coca-Cola plant in the world, which uses desalinated seawater!
Both experienced and intermediate surfers will enjoy catching a wave since Thulusdhoo offers a variety of reef breaks of which Cokes can be accessed directly from the island, no need to get a boat! Not into surfing? Don't worry, you can just kick back and relax on one of the day beds or hammocks scattered along the shoreline. Thulusdhoo also offers a wide range of activities such as diving including free diving, snorkeling and kayaking to keep you active.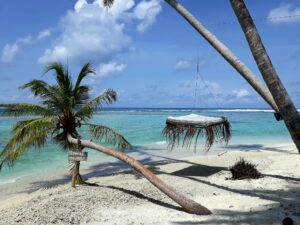 The island has a stretch of tourist beach with sun loungers where the lagoon can be easily accessed for water-sports or to cool off from the sun. Be careful with the currents around the entrance sea wall as they can be strong when the current is outgoing. The sandy beach stretches around to the east but take care not to offend locals as not all the beach area is a designated bikini beach, but still great spots for relaxing and watching the waves.
Due an earlier reclamation project there is plenty of island to walk, jog or grab a bicycle to explore. Head to the west to sunset point BBQ area. Here sit with locals and enjoy spectacular uninterrupted views of sunset as the waves lap against the shore.
So whether you want to surf, enjoy the underwater world of the Maldives, or just chill, you'll definitely have a blast on Thulusdhoo.
ATM Available.
40 Minutes from Male Airport by speedboat
UB's TOP TIP: Surfing solo or on a tight budget check out one of Thulusdhoo's surf camps.
Join the Secret Paradise guides on Thulusdhoo as part of our North Male Island Hopping Tour.
Soak Up the Sun on Dhiffushi 
Are you a solo traveler, a group of friends or a couple looking for a short beach getaway? Then Dhiffushi is perfect for you.
Soak up the sun and relax on the beautiful beaches of Dhiffushi Island. Located in North Male Atoll, Dhiffushi boasts two white sandy tourist beaches and a picturesque blue lagoon complete with ocean swing. As with all local islands there is no need to spend all your time on land and a range of half day and full day tours including visiting a sandbank and snorkeling are on offer.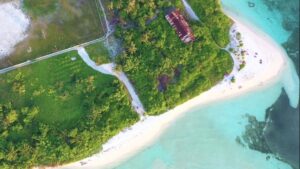 Beach BBQs are a great way to finish the day on Dhiffushi and for couples many guesthouses will offer a romantic beach dinner which is ideal way to celebrate an anniversary or even a proposal.
With only a dozen tourist properties, Dhiffushi still maintains its local island feel whilst providing a choice of both premium hotels and smaller guesthouses. There is even a private luxury villa ideal for a family stay.
ATM not available currently
55 Minutes from Male Airport by speedboat
Kokko's TOP TIP: Take traditional evening tea and enjoy sunset at the local café on the west side of the island.
Enjoy Dhiffushi when you book our 3 Night Beach Break
Explore the natural environment & more on Huraa
Between the resorts of Four Seasons Kuda Huraa and ClubMed rests the local island Huraa. Huraa is well known in Maldivian history as the last royal dynasty to rule over the Maldives, whilst today it is known for it's mangroves, huge red crabs and smoked dry fish.
Accessible by speedboat or by local ferry Huraa is only a short distance from the capital city Male, but with it's protected mangrove nature reserve located to the north of the island and unique vegetation providing a safe resting place for many species of protected birds, it is a nature lovers haven. Cross the wooden bridge at the west end of the lake to encounter traditional local island industry first hand. Taste a local staple – rihaakuru, a fish paste and learn how tuna is dried.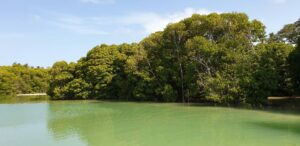 There are 10 approved guesthouses to choose from on Huraa (June 2021). They provide accommodation for all budgets and offer their own excursion packages and activities as well as surf transfers to nearby breaks.
At the beginning of 2020 a land reclamation project on the eastern side of Huraa doubled the island's size but despite this Huraa still remains a great option, especially if you want to experience more than just the famous white beaches of the Maldives.
ATM Currently not available
35 Minutes from Male Airport by speedboat
Mashir's Tip: Visit Pearl Sands at Huraa for a pampering massage or a special dinner.
Discover Huraa on our day tour from the capital.
Get off the tourist  route at Kaashidhoo
Ever wondered where Male markets get their natural produce from? The answer is the peaceful island of Kaashidhoo, located at the very top of North Male Atoll. It is known locally for its agriculture and is one of the biggest suppliers of fresh fruit and vegetables.
Kaashidhoo is also the largest island in Kaafu atoll, the fifth biggest island in the entire Maldivian archipelago. Grab a bicycle to explore or take a leisurely stroll through the fields of vegetation (be sure to ask for permission before you pick any fruit or vegetables) or even visit the goat shelter.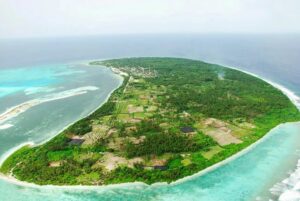 The island houses one of the largest archaeological sites to visit which demonstrate the Buddhist past of Maldives. An ancient Buddhist monetary believed to have been in use in the pre-islamic period. Kaashidhoo has yet to become popular with travellers and therefore provides a quiet getaway from it all environment with a real taste of local life. Currently 2 guesthouses have gained approval to operate ( June 2021).
ATM Available
2 Hours from Male Airport by speedboat
We were due to visit Kaashidhoo in 2020 but due to the pandemic have had to delay our visit to later in 2021.
Details of all local island guesthouses and hotels that have received approval from the Ministry of Tourism and have processes and plans in place to operate within the guidelines laid out by the Maldives Health Protection Agency (HPA) is updated regularly here.
Still not sure which island is for you? Contact the Secret Paradise team who will help you to select an island or even islands that are right for you and your holiday budget.