WHAT IS THE BEST LOCAL ISLAND TO VISIT IN THE MALDIVES? NORTH ARI ATOLL
Under the theme of which is the best local island to visit, we continue our series of local island guides where our guiding team share their personal recommendations in order that you can find a local island to suit your needs in the Maldives
With plenty of local islands to visit and explore you are by no means limited to just the ones we have mentioned! What we hope we are achieving however, is to give you a snapshot of some of our favourite islands that will allow you to select an island  destination that will provide the style of holiday you wish to experience.
Some of us enjoy adventure, some of us want to learn more about the environment, some want to surf, dive, snorkel and some simply want to relax on a white sandy beach and read a book. We are so lucky in the Maldives that we have it all.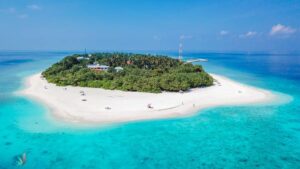 UKULHAS EVERYTHING YOU NEED FOR A BUDGET HOLIDAY
Ukulhas is situated in North Ari Atoll, an area widely regarded as one of the best diving spots in the world. Ukulhas has an abundance of green vegetation as well as a beautiful large white sand tourist bikini beach and provides the ideal location to relax, get active or discover Maldivian culture. Ukulhas has become a popular location for families, couples and solo travellers as it offers everything you may be looking for from a Maldives holiday location on a budget.
Ukulhas for a long time has led the way in the demonstration of local island environmental practices and the beach is just one example of this. The island is well known for its cleanliness, well-maintained waste management system and was the first systematically waste managed local island.
The jewel in the crown for Ukulhas is the tourist bikini beach, it is one of the largest local island beaches and provides sufficient space for everyone, as well as numerous sunbeds and sun umbrellas. You can also position yourself under the shade of trees and vegetation which line the top of the beach area. Another positive is that the beach is regularly cleaned and is well maintained by the community, the activity and water-sport providers that base themselves here and also the beach juice bars!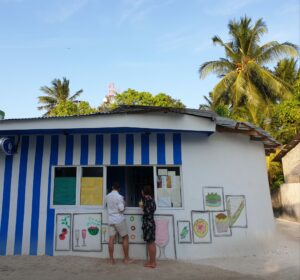 As with most island beaches be forewarned that during low-season tides are noticeably higher and therefore more of the beach ends up underwater at high tide and there will be more 'flotsam and jetsam'. The shape and size of the beach also changes based on the season as the change in direction of the wind physically moves the beach around the island, again a common feature on many local islands where there are no man-made structures to prevent this natural movement.
Not only does Ukulhas have some beautiful beaches, the local community here are particularly friendly and will be delighted to engage in conversation with you and show off their home island. As the locals of the island are known for their fishing skills they are keen to pass on their skills to tourists through various kind of fishing trips including big game fishing. Common fishes caught on a daily basis include sail fish, dog tooth tuna, trevally and dolphin fish (mahi mahi). Be sure to check out the commercial ice making machine at the harbour!
The house reef is accessible directly from the island where you may be lucky enough to encounter turtles, stingrays, eagle rays, reef sharks and a host of tropical fish life. For safety reasons be sure not to snorkel on your own and always tell someone at the guesthouse where you are going – this applies to staying on all islands. About a 12 minutes speedboat ride away from the island there is a huge lagoon area where mantas love to hangout throughout the year. Almost any time of the day it is possible to see 2 or more mantas.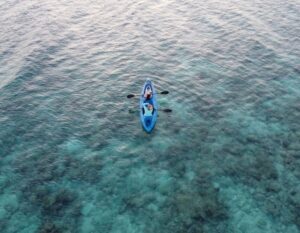 The lagoon at Ukulhas is well protected and is the ideal location to learn new skills or spend time enjoying the clear waters from a kayak or SUP. Snorkeling excursions, visits to sandbanks and full day trips in search of whale sharks in the south of Ari Atoll are all on offer at reasonable prices.
Ukulhas has as you may expect a wide range of tourist guesthouses and hotels from budget level to boutique style and even conference facilities! Due to the vegetation that splits the beach from the building line (long may it remain in place as this is the islands natural protection to erosion and storm swells), properties are not located directly on the beach and in most cases do not have ocean views.
There are a few simple convenience stores and a couple of boutique style souvenir shops but there is a wide range of local cafes and restaurants as well as the opportunity to dine at other guesthouses or hotels.
ATM Available.
90 Minutes from Male Airport by speedboat
UB's TOP TIP: Head down to Ukulhas Watersports Club for competent and qualified guides.
Join the Secret Paradise guides on our North Ari Island Hopping tour and experience Ukulhas for yourself!
THODDOO A CULINARY ADVENTURE!
Thoddoo is a paradise island for fruit and vegetable lovers and pre the pandemic you could even access it by taking the overnight fruit ferry from Male (not for the faint hearted)! Thoddoo is the largest producer of watermelon in the Maldives with papaya a close second. Watch the fruit ferry being loaded at the harbour-side and see how many varieties of fruit and vegetables you can identify. Many guesthouses will organize an island tour where you get to pick your own fruit and vegetables which will be cooked for your dinner later that evening.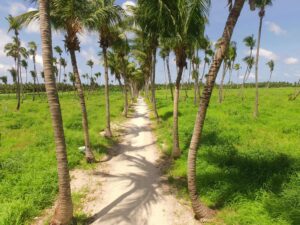 One third of the island is given over to agricultural farm land with an abundance of fruit and vegetables grown all year round. The village with a number of guest houses, cafes and small shops sits in a further third and the remaining third of the island is left to its natural beauty and vegetation. In order to explore and discover the full island hop on a bicycle or hitch a lift on a scooter!
Thoddoo hosts a wonderful house reef where marine life is abundant as well as access to some good dive sites and in season, manta encounters. There is a bikini beach tucked away on the west side of the island and with water sports, snorkeling and diving trips on offer, those who enjoy a more active holiday are well catered for. Evening fishing trips followed by BBQ dinners with your catch are a popular excursion.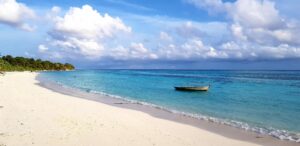 ATM Available.
60 Minutes from Male Airport by speedboat
Kokko's TOP TIP: Visit during EID celebrations and experience traditional dancing and games.
Stay on Thoddoo with the Secret Paradise guide team on our Taste of Thoddoo Short Break.
RASDHOO A DIVING & SNORKELING PARADISE
Rasdhoo, is the first island you come to when travelling from Male to the top of North Ari Atoll. It is close to some of the best dive sites in the Maldives so if you're a diver get yourself signed up at the local dive centre. Divers can opt to join early morning dives to Hammerhead Point and during the manta season (November to April) there are opportunities for spectacular close encounters with these majestic large rays.
Rasdhoo is also surrounded by excellent coral reefs that provide some great snorkelling opportunities for the less intrepid. Encounter turtles, sting rays, eagle rays, reef sharks, moray eels and a host of colourful tropical fish life in all shapes and sizes!  Be sure to keep a look out for dolphins whenever you are travelling by boat as they are commonly seen in this area.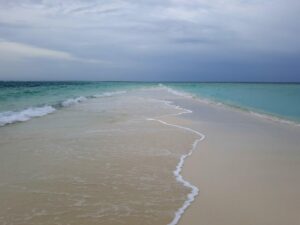 The tourist bikini at Rasdhoo is not particularly extensive but most guests on the island are here to dive. Just before the start of the pandemic a coastal protection project at Rasdhoo was launched in partnership with India  so we are expecting to see improvements in the quality and potentially the size of the beach. However, for beach lovers there is the uninhabited island of Madivaru close by and a narrow and pristine sandbank known as Madivaru Finolhu, both perfect locations to sun bathe, watch the sunset and experience your own Robinson Crusoe moment!
Interestingly these islands also mark a rare occasion for local communities when the locals of this area of the Maldives campaigned against a major resort developer and won, ensuring protection of the islands and the coral reefs from development projects.
As Rasdhoo is the capital island of the atoll it is has a hospital and banking facilities including and an ATM. The main street is lined with convenience stores, souvenir shops and a number of cool trendy cafes popular locations for locals and tourists to hang out.
ATM Available.
60 Minutes from Male Airport by speedboat
Ruth's TOP TIP: Thinking of becoming an open water certified diver? Complete your theory online before arriving in the Maldives. Less time in the classroom and more time in the water! 
Join the Secret Paradise guides on our North Ari Island hopping tour and snorkel or dive the waters around Rasdhoo with your very own private marine-life 'spotter'!
Where do I find more information about the best vacation for me?
At Secret Paradise Maldives we are always available to answer questions for you.  We work with many guest houses and islands across the Maldives and we can offer a wide range of vacation packages for all types of travellers and budgets. Contact us and we will help you to select an island or even islands that are right for you and your holiday budget.
Details of all local island guesthouses and hotels that have received approval from the Ministry of Tourism and have processes and plans in place to operate within the guidelines laid out by the Maldives Health Protection Agency (HPA) is updated regularly here.