Dive Local in the Maldives
When it comes to diving, the Maldives is in a class of its own, but the best dive spots do not have to cost a fortune. Secret Paradise has teamed up with local guesthouses and PADI dive centres to offer great diving at affordable prices.Staying at guesthouses on local islands allows you to dive the same sites for less, whilst experiencing the local life of the Maldives, adding a new dimension to your holiday.
Professional, experienced dive instructors lead the dive teams based at each local dive centre. They will take you to the best dive spots and introduce you to the characteristics of the underwater world of the Maldives. All dive centres offer boat dives, equipment hire and a full range of PADI courses. The teams will always ensure you get the best out of your dive. If you are learning to dive, you can do anything from completing the open water section of your PADI certification to completing the full PADI Open Water course. Whatever you choose to do you can be assured of fun and safe diving.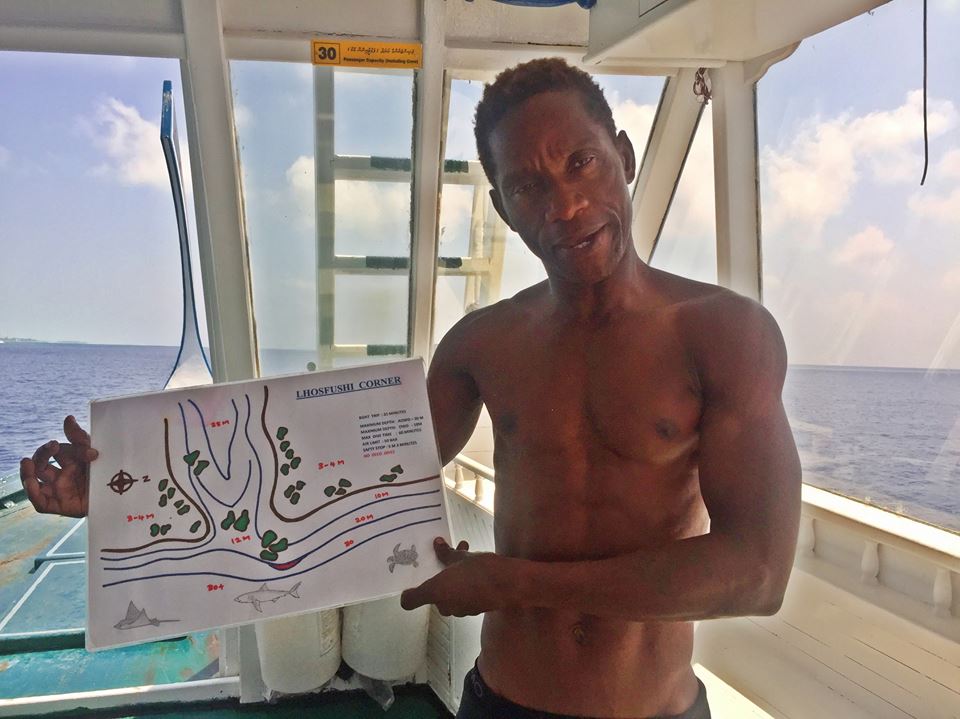 Diving in the Maldives is a unique experience for both experienced divers and beginners. Once you have discovered the underwater world here, it will be difficult to find others of its kind. The water is azure blue, warm, and the varieties of dive spots are stunning. You can enjoy drift dives, discover wrecks, caves, overhangs, and beautiful reefs. Renowned for the abundance of big aquatic animals including Whale Sharks and Manta Rays, together with the diversity of corals, sharks and fish of all sizes, the Maldives sets itself apart from other worldwide dive locations.
Dive sites in Maldives are broadly divided into 'Thilas' – an underwater pinnacle; 'Kandus' – a corridor or passage in the atoll between two reefs. The 'Kandu' and the 'Thila' are commonly affected by strong currents, whilst the reefs  inside the lagoons are more protected areas. A 'Faru' is a reef partially exposed at low tide, whilst a 'Falhu' is a reef that encircles a lagoon. All diving is dependent on the prevailing weather and current conditions. You will however be in the hands of experts who will choose the most suitable dive site for the conditions and level of diver experience.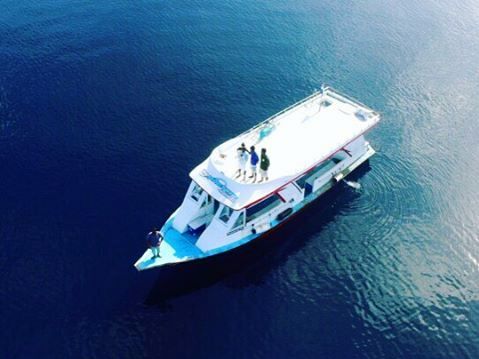 Divers are transported to dive spots by a traditional local boat known as a dhoni. The dhoni is equipped with everything required for diving – tanks, weights, emergency equipment, life vests, First Aid & emergency oxygen. Between dives, there is the opportunity to relax on deck, snorkel or swim and sometimes dependent on location visit a local island.
Secret Paradise offers dive local packages in 6 atolls providing a wide range of both dive experiences and local island life.
The presence of deep, clear waters all around North Male Atoll means excellent visibility, especially with incoming currents. Pelagics such as barracuda, trevally and tuna and big schools of fusilier, snapper and sharks all congregate at the entrance to the channels. Most of the diving in North Male Atoll is in channels and drift diving is the most common method. Popular dive sites include HP Reef, Okobe Thila, Nassimo Thila, Lankan Caves, Maagiri Caves, Banana Reef and Maldives Victory.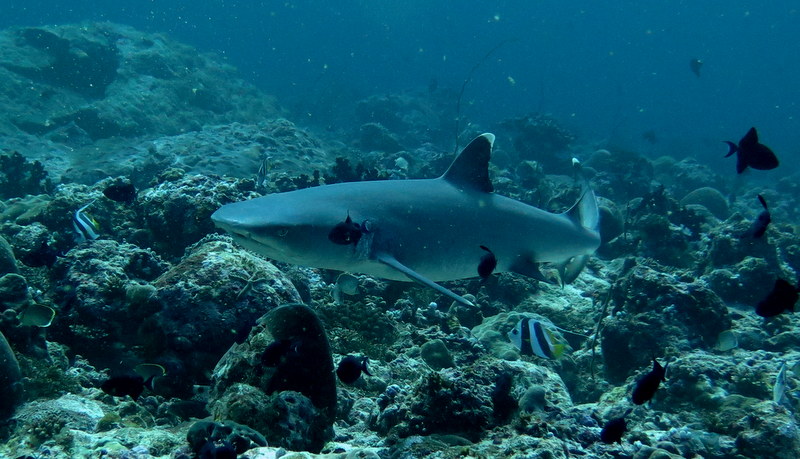 South Male Atoll offers many dive sites with spectacular drop offs and caves along both sides of the channel that separates North Male and South Male Atoll, as well as a further 18 channels located along the eastern and western sides of the atoll. Predictably currents at the channel entrances attract barracudas, grey reef sharks, white tip sharks, groupers, jacks, trevally, napoleon wrasse and eagle rays.  Popular dive sites include the protected marine area of Embudhoo Kandu, Embudhoo Express, Kandooma Thila, Guraidhoo Corner, Kandooma Caves.
Stunning coral formations, incredible colours and a huge variety of fish life have made Ari Atoll one of the top diving destinations around the world. Add into the mix regular Manta Ray and Whale Shark sightings, and it's clear why people keep coming back for more. From January till end of March visits to manta dive sites are made several times a week and in April, May and then again September through to November there is a good chance of seeing whale sharks in the area. In fact currently whale shark sightings are common almost all year round. Popular dive sites include Broken Rock, Protected Marine Area Kudarah Thila, Panettone and Angaga Thila.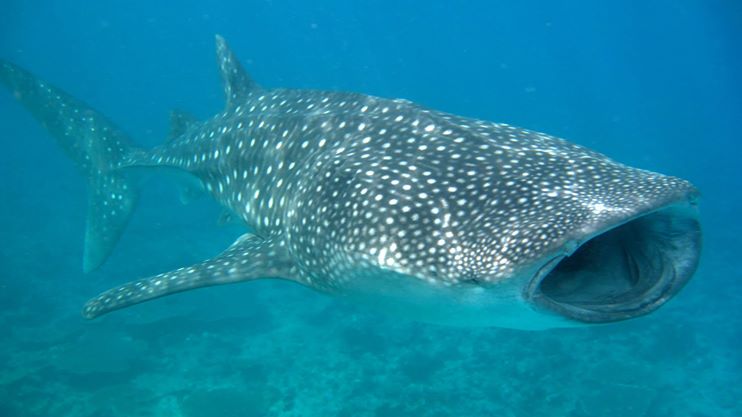 Baa Atoll  is blessed with a varied selection of diving sites: thilas, channels and coral reefs. The tranquil atmosphere, warm crystal clear water, rich coral gardens and colorful reef fishes make the atoll one of the top diving choices in Maldives. Maaddoo Giri, Dhonfan thila, Horubadhoo thila and Baiypolhi Mas are some of the diving sites with flourishing aquatic life. Among all these sites, Baiypolhi Mas is the most exciting and challenging dive spot with several batfish, here you can also spot sharks throughout the year. The famous Hanifaru Bay, a unesco protected zone, regularly sees some of the largest gatherings of Manta rays worldwide with up to one hundred individuals in the small inlet when the tide pushes plankton into the bay usually between July – September.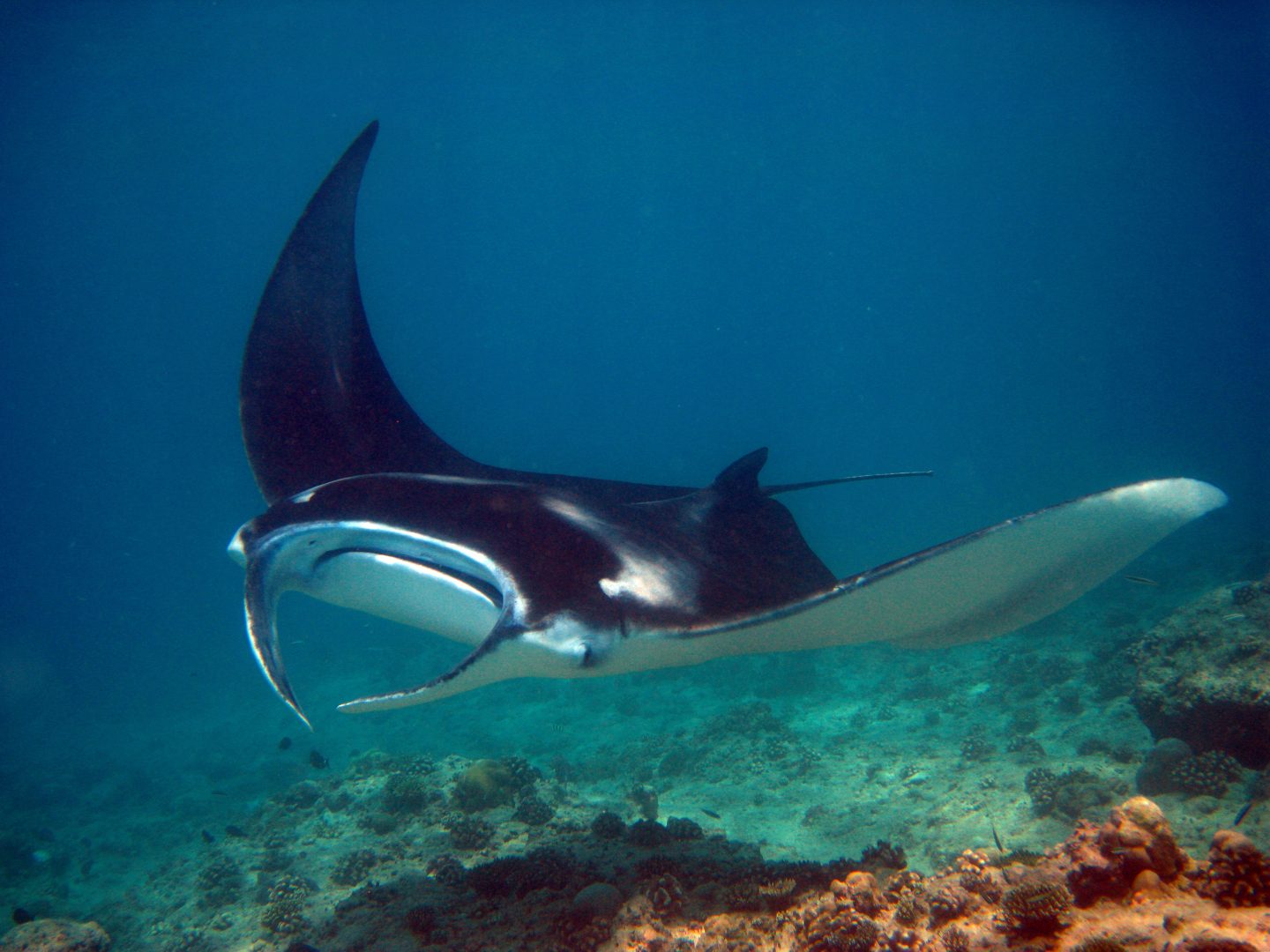 Laamu Atoll is an untouched paradise for snorkelers and divers. With relatively few channels, great visibility, beautiful hard coral formations and weak currents, this area is perfect for photographers and inexperienced divers. Inner reefs are home to both small macro and larger animals such as turtles. The channels to the north provide adrenalin-charged current diving for the more experienced and are packed with fish, sharks and eagle rays while on the outer reef; you may encounter mantas and whale sharks.
As with Laamu in Haa Alif in the deep north you are unlikely to see many other divers or boat traffic. Because of this the marine life seems to revel in the minimal interference from humans with flourishing coral growth. Fish life thrives in the nutrient-rich waters bringing in the reef predators: white and black tip reef sharks and large numbers of manta rays. The area offers drift dives, cave diving and even the Maadhoo wreck. Wall dives are among some of the best you will find and clear waters make for great visibility.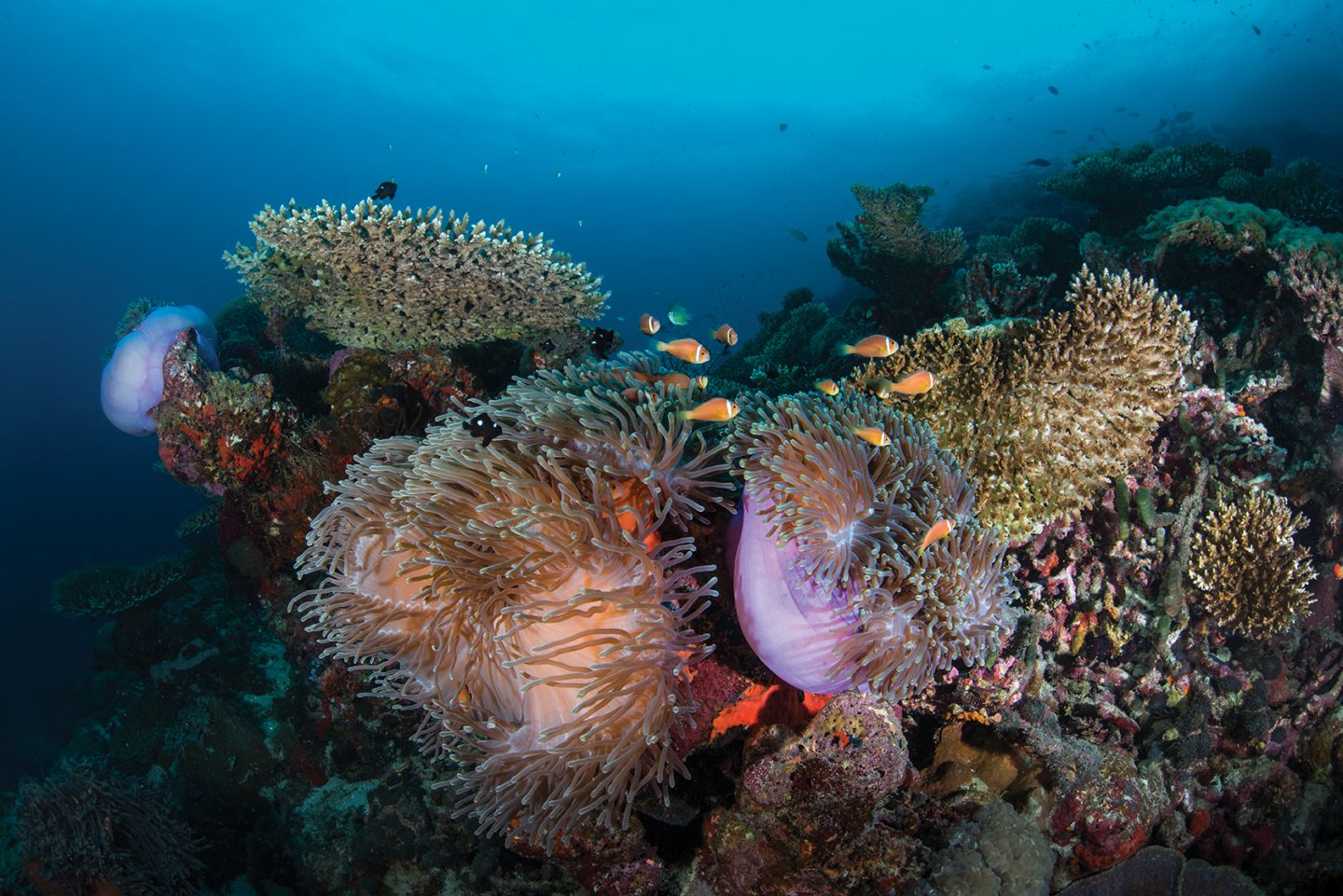 Diving is good all year-round, although a basic rule is that reef life is more varied and visibility is better on the western side of any atoll from May to November and on the eastern side from December to April.
Dive Local packages are suitable for families, groups, couples or just diving buddies. Itineraries  can be customised to suit your needs and length of stay and can even be combined with a more traditional resort or liveaboard stay.