Safe, Sustainable Travel – How Will the New Travel Normal Work for Our Environment?
The year 2020 has definitely been a strange one for us all. Life as we know it has changed for good. Our daily lives, future plans, travel and holiday dreams have all changed in ways we never imagined. For some of us, it was a time of reflection, some sadness, some fear, but we all managed at some stage to find some peace and happiness too.
Reflection about our well-being, seeing how the environment has been positively impacted by the lock downs, connecting with family and friends, even if only virtually and perhaps uniting as a global community, we can't say it's been all bad. But moving forward, re-opening our countries and allowing freedom of movement once again – with the 'new normal' needs plenty of careful thought and consideration.
PPE Environmental Impact
We need to consider our health, especially now that many of us are returning to work. We need to make sure we are looking after our well-being and we also need to consider our environment. There are new requirements and expectations set in place, but if we are not careful, we will simply create whole new areas of issue, transferring what we have 'undone' during lock down to new environmental issues.
The internet is  already awash with images of discarded face masks impacting wildlife and marine life. Even as early as February 2020, 70 masks along 100 metres of shoreline were found on a beach clean in Hong Kong and more recently in the Mediterranean, masks have reportedly been seen floating like jellyfish.
Discarded masks may also risk spreading  the virus to waste collectors, litter pickers or members of the public who first come across the litter. Let alone the fact that as a mask breaks down over time into millions of particles, the potential is there for those particles to carry chemicals and bacteria up the food chain.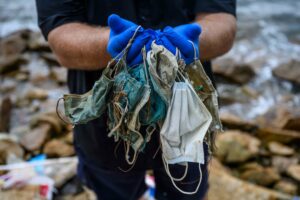 At Secret Paradise Maldives we are firm believers in sustainable travel and also believe that if each one of us takes individual responsibility and educates just one person, messages such as these will filter through to many people.
Picking up a couple of plastic bottles or bags on the beach may seem a tiny gesture given the global plastic crisis but what if every single person on this planet just picked up two pieces of plastic rubbish? Or better still, we individually stopped and considered our actions and disposed of rubbish and waste appropriately in the first place? The problem would pretty much be solved, or very close to it!
However, we are also realists and understand that this is easier said than done. So, we urge our followers, guests and partners to educate just one person about the new normal. Highlight how their actions can protect the environment and also achieve safe, sustainable travel, be that domestic travel or international travel. Ask them to pass their new knowledge on to another person and let the education and results filter through.
How to travel sustainably with the new safety requirements
Sustainable travel is not just about considering your carbon footprint and who or what will benefit from your tourist dollar, it is also about making considered decisions and green choices when it comes to packing the necessities of travel in the post COVID world.
Face Masks:
Choose reusable masks. They are actually becoming quite a trend with many different designs to choose from. Why not make a fashion statement with them! Let kids wear fun looking masks, like a friend's daughter who has a big smiley face on hers – it makes her less conscious about wearing it and she remembers to wear it because of the fun reactions she gets.
Keep a few fresh spare masks in different key places, like one in your handbag, one in the car, one at your place of work – this way you are less likely to forget them and need to buy disposable ones.
When travelling consider if you will be able to wash your mask after use. Packing a mask per day may now be like considering how much underwear to pack!
There is also the opportunity to support local businesses and purchase masks locally. Maybe they will become the new holiday gift for family and friends!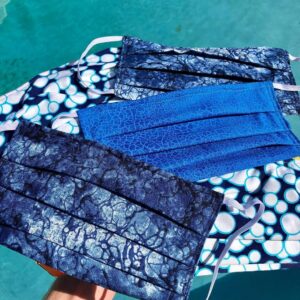 Hand sanitizer:
Washing your hands with soap and water should always be your first option but when you are travelling this may not always be possible.
Many shops are selling handbag size hand sanitizers and once again this means more single use plastic being disposed of.  Consider purchasing industrial size hand sanitizer and refill your handy, on the go bottles.
We've successfully changed our mind set with water bottles and refilling them so there is no reason we can't do it with hand sanitizer.
Disinfectant Surface Cleaning Wipes:
Disinfectant wipes are perfect to clean door handles, bathroom taps, AC remote control, toilet handles and more and it's worth having a pack in your hand luggage.
Ensure to seek out eco-friendly biodegradable wipes and dispose of them responsibly.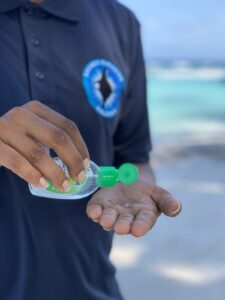 Go Digital:
Never has there been a better time to go paperless.  Ask for electronic travel documents be they transport related, hotel confirmations or tour and activity bookings. Certainly, if the accommodation provider or tour operator are sustainably minded they will not blink at your request.
Not only will you be helping the environment it will also assist you in maintaining social distancing.
Bring Your Own Toiletries:
We may find that hotel properties find that they need to return to the old practice of single-use toiletries instead of multi-use bottles/containers to minimize the spread of germs.
Therefore rather than rely on hotel-provided toiletries bear the small inconvenience of packing your own or decant from larger size containers you use at home into re-usable travel containers. Or check out the now popular natural, soap/shampoo bars that are available which also have less impact on the environment as they  wash away.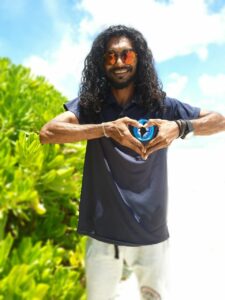 Travel Sustainably and Safely with Secret Paradise
COVID-19 may have given us many new challenges and considerations to make, even before we leave the comfort of our homes. But this does not mean that you need to compromise on either your safety or on protecting the environment.
It remains about making the right choices and assisting others to do the same. If we all work together sustainable travel and safe travel can work hand in hand, albeit socially distanced!
As with travel in general at this moment in time, regulations and recommendations are constantly changing and evolving so make sure to check out local travel guidelines and listen to the medical experts.
At Secret Paradise we have reviewed all our operational practices to ensure all aspects of guest's comfort and safety have been accounted for, but without losing the memorable aspects of our experiences and service.
Find out how you can experience the Maldives in a safe and secure way and book your Maldives holiday package safe in the knowledge that the team at Secret Paradise have you covered.
Cover Image: MarcelloRabozzi