Discover Male with a Secret Paradise Walking Tour
Many visitors to the Maldives by pass the capital city Male on their way to where they may be staying. However we believe a tour of the capital city provides the ideal opportunity to understand the history and culture of the country you are visiting.
DISCOVER MALE CITY
Male is the mostly densely populated capital city in the world and stands on an island that is just under 9 square km! But despite it's size it packs a lot in. Within the towering colorful buildings discover winding lanes, parks offering a peaceful oasis from the hustle and bustle of the city, evidence of moments in history and the sights and sounds of every day life for Maldivians who make the capital their home.
Whilst Male is a complete contrast from island life, it has much to offer, as you can discover in just a few hours of exploring with your Secret Paradise guide.
Don't just take our word for it , this is what a recent guest had to say about their experience.
MALE CITY WAKING TOUR
'With many tour operators in the Maldives offering excursions and other options, I wanted to choose one that I felt worked with the local community and ensured that its ethos and brand stayed true to their roots of sustainable tourism and the development of local community project outreach programs.
Secret Paradise Maldives has been in operation for several years and works closely with local islanders. Their team of guides are all Maldivian delivering hospitality from the heart and they are excited to share their home country with you!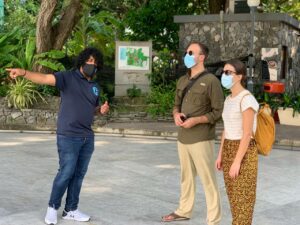 Having been to the Maldives previously, I was aware of some of the country's history, its culture and the many colorful sights and sounds. Even after these previous visits, I was still able to learn more about the Maldives, experience its history and taste some local delicious food that I had never tasted before.
I was pleased to find that Secret Paradise operate their tours at your pace and ensured throughout that I was safe and comfortable. Social distancing was maintained, the guide, Mashir, had hand sanitizer available should I not have had my own and even though he wore a face mask I could hear his commentary and conversation comfortably. He also provided adequate time to explore the sights we visited during the tour.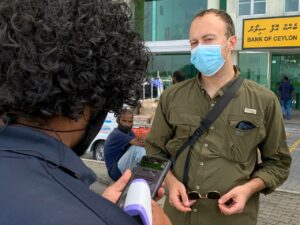 As a frequent traveler, the tour did not feel rushed at all and the guide genuinely wanted to show and highlight his own country; both the good, the bad and the ugly. I have found previously in other destinations that tours are rushed and very much scripted. Where as with Secret Paradise, I found it to be a more personal experience,  a tour that is given from the heart.
Just a short walk from Hulhumale Ferry Terminal, Male or from the President's Jetty you will find the starting point
of the tour at Jetty 5, in front of the Bank of Ceylon. My guide, Mashir, was waiting to greet me and was easily identifiable in his Secret Paradise shirt and with a logo board too.

Upon meeting me he checked my temperature and took me through a range of COVID related questions prior to starting the tour.  Once these were completed we made our way to the city map and I was talked through the route that would be covered including the key locations and sites that were to be visited.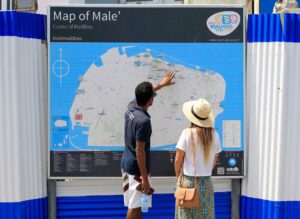 MALE CITY TOUR TOP TIP
A mask is mandatory to be worn, so make sure you have one. Comfortable walking shoes, sunscreen and maybe even a hat to be worn.
Like many countries, the history is both fruitful and tinged with sadness at times. Mash weaved a story throughout the tour that was both factual but also humorous. Be sure to listen carefully as they share many interesting insights  into the country's history and culture.
I was particularly interested to see one of the oldest mosques in the country and to learn that it is freestanding and still used to this very day as a place of daily prayer. Keep your eyes open for what may look like a lighthouse and is in fact another unique part of history.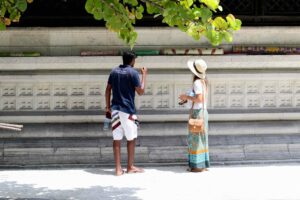 MALE CITY TOUR TOP TIP
Ladies should cover shoulders, remember that even though the Maldives is a tourist destination, it is a Muslim country and as such out of respect, guidelines should be followed and respected. If you wish to visit the interior of the mosques on the tour then both men and women should wear long trousers.
About half way through the tour we headed to a local café for a well-earned sit down and rest. This turned out to also be a great time to catch-up with Mashir and learn more about him personally and also to ask questions!
Once well re-hydrated be prepared for a sight, taste and smell sensation like no other. We made our way to the fruit and vegetable markets that provide most of the fresh produce for the area and local shops. From here we ventured to the fish market.  So many different types of fish from tuna to barracuda to snapper. We watched them fillet with such speed and dexterity it was awesome to watch.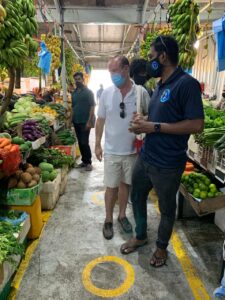 MALE CITY TOUR TOP TIP
If you want to explore the fish market, ensure that you are wearing closed shoes with a good tread as the floor is wet.
The tour ended literally on a high note, be sure to have your camera at hand.
This was a city tour where I learnt more than just historical facts. It was an opportunity to get up close and personal and truly, see, taste, touch, smell and experience the City of Male.
The local team are truly passionate, funny and genuine tour guides. I would highly recommend a Male Walking Tour  to anyone looking for a true taste of the Maldivian capital city, whether you are a tourist visiting for the first time or someone who has experienced the Maldives many times before but has not ventured into the capital.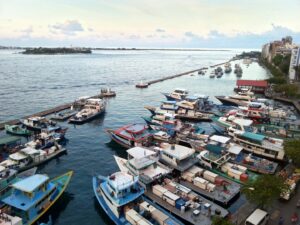 MALE CITY TOUR TOP TIP
The tour will lead you by The Maldives National Museum, but not necessarily include a visit. Also at the time of my visit the museum had not reopened to tourists.
Sultan Park is open daily in the afternoon only and therefore if you join a morning tour you will only be able to view from the exterior pathway that circumnavigates the area.
So if you are ready to experience Male book a Secret Paradise walking tour today!
4 Hour Malé City Walking Tour