MEET THE TEAM – MALDIVES WHALE SHARK RESEARCH PROGRAM
We spent some time we Chloe Winn, In field Co-ordinator and Communication Manager with Maldives Whale Shark Research Program (MWSRP), to find out what brought her to the Maldives and how she became involved with MWSRP.
When I first came to Maldives in 2017, as a volunteer to Maldives Whale Shark Research Program, the experience was the catalyst for my fascination with this iconic, endangered shark and the ocean itself. Now working in the role of Lead In-Field Coordinator at MWSRP, years on this gentle giant continues to captivate my curiosity and give me a strong sense of purpose.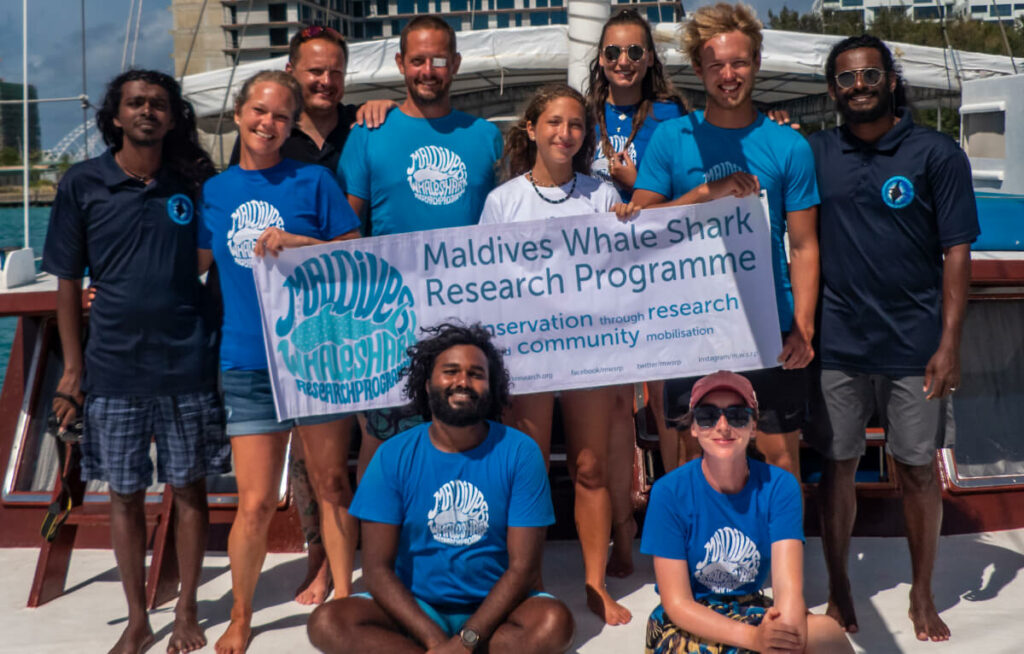 WHY JOIN MWSRP AS A VOLUNTEER IN THE MALDIVES?
If you're a water lover looking to travel and make a difference while doing so, volunteering with Maldives Whale Shark Research Programme can be a great option for you. We have volunteers come from all over the world, from all walks of life and of a variety of ages. Whether you're a university student looking to gain experience in the field or an avid snorkeler wanting to learn more about our oceans and be around like-minded people, the experience of joining one of our liveaboard or local island based expeditions is not one to pass up.
As a volunteer for MWSRP you will gain insight and skills in regard to our various data collection methods, however as an organization who advocates for an interdisciplinary approach to research and conservation we're also keen to see volunteers bring their skills to the table! If you're an artist, photographer, drone pilot, a writer or a tech wiz we want to hear about it and perhaps even discover a way for your unique skill to aid the mission to help whale sharks.
WHAT DO MWSRP VOLUNTEERS DO IN THE MALDIVES?
Once selected as a volunteer, the day to day running of the expedition is centered around our all important whale shark surveys. As a research organization we create scientific papers, which feed into worldwide whale shark science and knowledge, and the foundation of this is baseline data which our volunteers help our staff to collect. While the term 'baseline data collection' sounds very formal and intimidating for some, what this looks like in practice is much more exciting.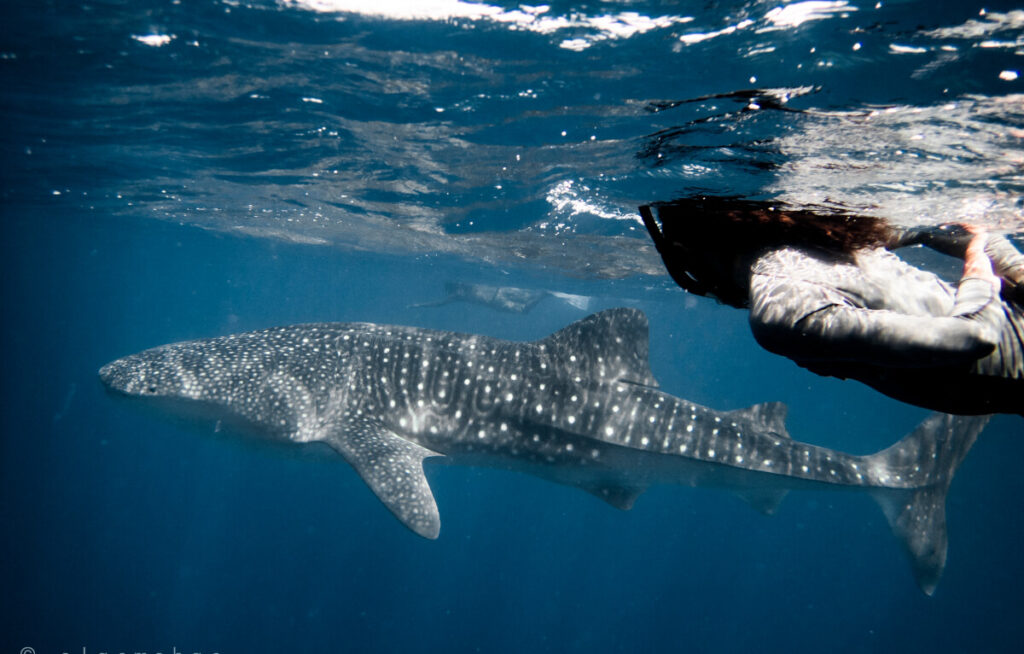 MALDIVES WHALE DATA RESEARCH & SURVEYS
During our surveys we will be looking for whale sharks in the South Ari area of the Maldives, where we are fortunate to experience a year-round aggregation, and when we spot one, MWSRP and our team of volunteers will be entering the water to collect our photo IDs and observational data via snorkeling and freediving. Photo ID is how we identify individuals as each whale shark has a unique spot pattern on the pectoral flank and these photo IDs form the backbone of our national database! If we can identify individuals we can therefore map whale shark distribution and assess the health of the population among other things. During our boat based surveys, which are typically six to seven hours long, we also collect vessel and megafauna data which informs our knowledge of whale shark distribution also. Volunteers will of course receive training sessions in the form of presentations and also learning data collection methods in situ with staff present.
Aside from the excitement of being on the survey dhoni (the word for boat in the local language Dhivehi), spotting whale sharks from the top deck and recording that all important data, we will also be partaking in recreational snorkels at various different spots across the 42 km expanse of South Ari's reef. South Ari atoll is blessed with beautiful coral reefs and a variety of megafauna including manta rays, turtles and reef sharks in addition to the iconic whale shark. In addition to our own data collection we will also be submitting our citizen science data and IDs to Manta Trust and Olive Ridley Project should we see mantas and turtles.
At the end of our survey day our team always comes together to log our data in spreadsheets, edit any whale shark encounter photos, identify individuals and upload to the Big Fish Network database before watching the sunset from our floating base MV Felicity. Over the period of an expedition we also have the chance to visit local islands including Dhangethi and Dhigurah, which used to be a base of ours for many years. Dhigurah is a very special place indeed and volunteers will have the chance to explore the infamous long sandbank, perhaps engage in a beach clean up event and even visit our friend Gayyoombe's cultural museum showcasing the heritage of Maldives.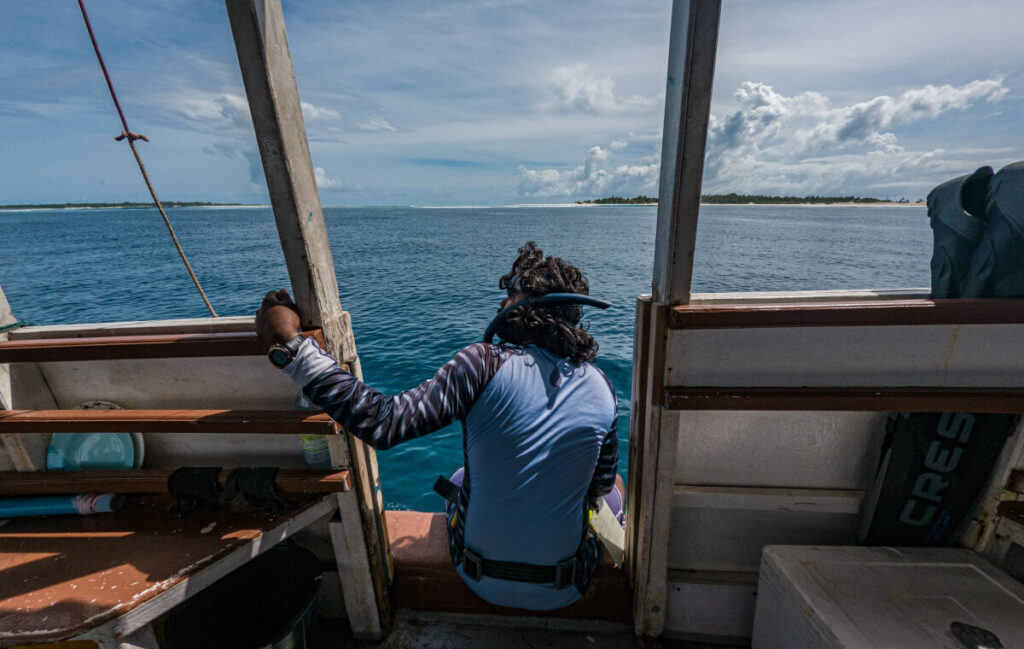 THE CHALLENGES OF WHALE SHARK CONSERVATION
As past volunteers will tell you, joining MWSRP is full of special moments but it is by no means a pleasure cruise. As well as the highs of swimming with whale sharks and megafauna you will also be exposed to some of the more realistic, and at times saddening, scenarios which we as working conservationists occasionally face. We work within an area which has experienced a rise in unsustainable tourism over the years and while busy whale shark encounters are not an everyday occurrence in South Ari, they are happening more frequently and we do document this as part of our aerial survey data collection efforts.
With this rise in vessels operating within SAMPA on a daily basis we have subsequently observed an increase in major vessel related injuries to resident whale sharks. 66% of individuals in South Ari have suffered injuries at some point throughout their lifetime, with an average of three major injuries to each shark per year as of 2019. During encounters volunteers will also be working with us to document these injuries as well as taking photo IDs. While this can be emotionally stirring, for me personally it adds fuel to the fire to keep going and keep collecting data on this so we can galvanize true action for the gentle giants of South Ari.
WHY JOIN A MWSRP EXPEDITION?
Embarking on a MWSRP expedition in the Maldives is not just an adventure; it's a chance to be part of something bigger than ourselves. You become a vital contributor to the ongoing research and conservation efforts in the region. The information gathered during these expeditions plays a crucial role in supporting positive change.
The data collected becomes a powerful tool for influencing government policies, driving environmental initiatives, and fostering a greater understanding of the Maldives' fragile environment. Through your participation create awareness, and inspire others to join the cause.
So, if you're passionate about marine life, sustainability, and making a meaningful impact while traveling, consider volunteering with Maldives Whale Shark Research Programme. Your journey will not only leave you with unforgettable memories but also a sense of fulfillment, knowing that you've played a vital role in protecting this paradise for generations to come. This be-spotted gentle giant is a true spectacle of nature and we hope to see this endangered species thrive for years to come and for them to continue to touch the lives of people around the world.
Find our more here