EVERYTHING YOU NEED TO KNOW FOR A MEMORABLE SURF TRIP TO THE MALDIVES
The Maldives offers two main draw cards when it comes to planning a surf trip … world-class waves and empty lineups. It doesn't get much better! Throw in that the Maldives also boasts over 20 surf breaks and the water is a divine 28-degree Celsius. The Maldives is also a surfing destination that offers a large choice of both right and left hand surf breaks – there's something for everyone!
WHEN TO PLAN YOUR SURF TRIP?
The main surfing season of the Maldives starts in April and finishes in October. The biggest swells generally occur from June to September.
One of the biggest myths is that Maldives does not get swells as big as other renowned destinations like Indonesia. However this is not the case! The 2016 surfing season was the most consistent season of the last decade, with renowned Australian surf photographer and surf guide Richard Kotch calling 2016 his 'most consistent season yet.'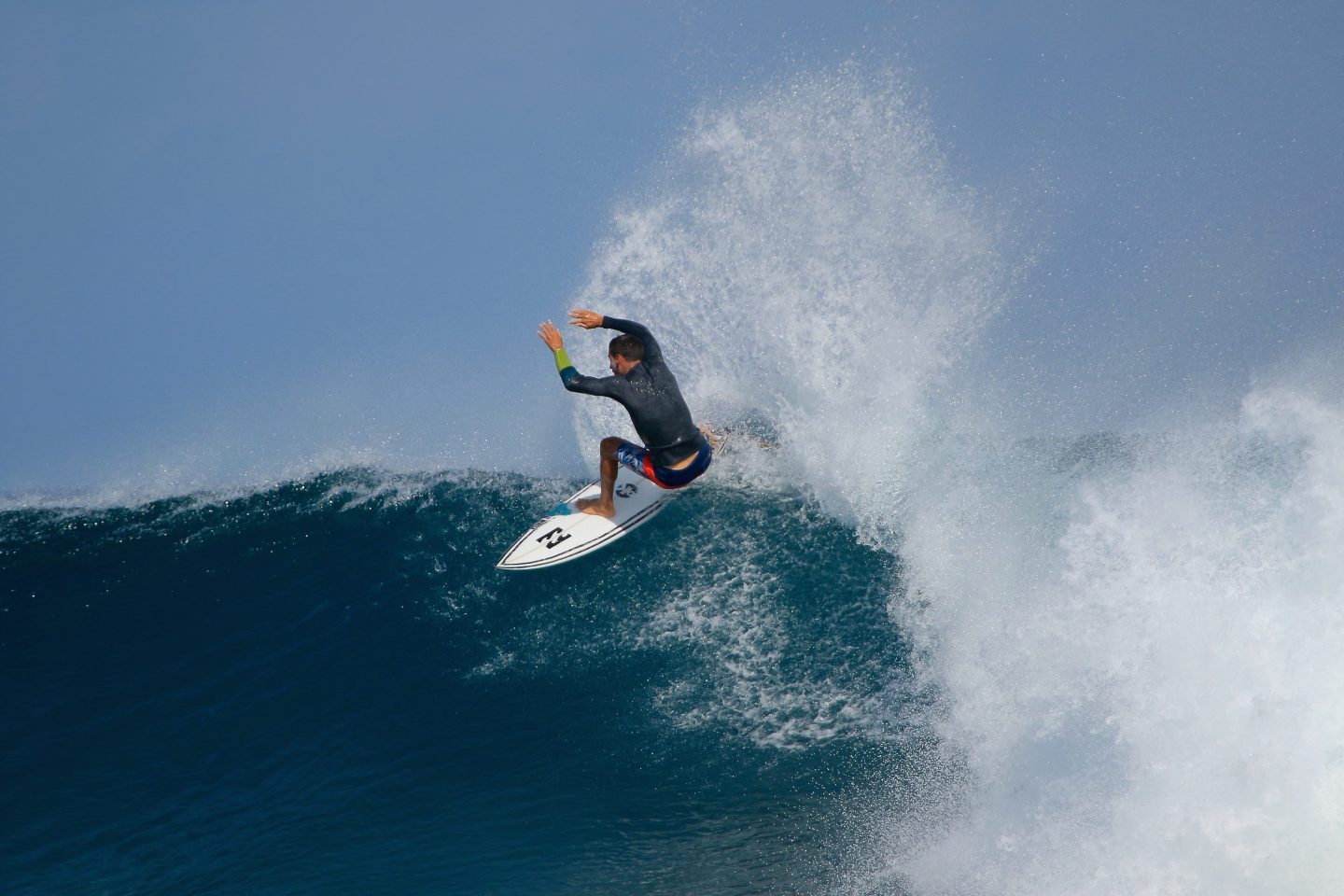 WHERE TO SURF?
Surf breaks in the Maldives are dotted over hundreds of kilometers of coral reefs. There are four main surfing regions in the Maldives:
North Male' Atoll
South Male' Atoll
The Central Atolls
The Southern Atolls
Each of these regions encompasses a number of surf breaks. Because of its location, North Male atoll has the most consistent swells. However this area also draws the largest crowds, including the surfing safari boats. Travel to the South, Central and Southern atolls and this is where the uncrowded line-ups and perfect almond shaped barrels are discovered.
POPULAR NORTH MALE SURF BREAKS
Cokes
Chickens
Sultans
Jails
Honkeys
POPULAR SOUTH MALE SURF BREAKS
Quarters
Tucky Joes
Twin Peaks
Rip Tides
Foxys
POPULAR CENTRAL ATOLL SURF BREAKS
F1
Outside + Inside Mikados
Finnimas
Ying Yang
Machines
POPULAR SOUTHERN ATOLL SURF BREAKS
Beacons
Blue Bowls
Love Charms
Five Islands
The Maldives also has three exclusive waves Lohis, Pasta Point + Kandooma. These waves are reserved only for guests staying at the attached resorts.
WHERE TO STAY ON YOUR MALDIVES SURFING TRIP?
The Maldives offers a variety of surfing trips, no matter your budget and preferred surfing experience. Generally speaking when it comes to a surf trip in the Maldives, you get what you pay for.
An exclusive 'Surf' Resort – enjoy the luxury of surfing a private and exclusive wave, reserved only for surfers staying at the property. These waves are also capped to a maximum number of surfers on any one-day.
Luxury Resort – enjoy the nearby surf breaks whilst staying in luxury accommodation.
Surf Safari / Live aboard – stay onboard a surfing vessel and enjoy the freedom of roaming the seas in search for perfect waves.
Guesthouse / Surf Camp – for surfers on a budget or who want the freedom of independently surfing in the Maldives.
IS THE MALDIVES BEST FOR INEXPERIENCED OR EXPERIENCED SURFERS?
Most of the waves in the Maldives are for intermediate or experienced surfers. This is due to the fact that the waves break off shore, over large coral reefs. The Maldives is extremely tidal, meaning there is a big shift in the tide each day, causing strong currents. It may be necessary to do some fitness training before arriving in the Maldives on your surf trip.
However, with a little know how, it's certainly possible to learn to surf in the Maldives. What better destination is there to learn to surf than in the pristine tropical surroundings of the Maldives? This is certainly an activity to add to your bucket list!
At Secret Paradise, we suggest surfing or learning to surf with an experienced local guide. Local surf guides offer their extensive knowledge of each surf break, the winds, tides, currents and swell direction that work best for each surfing spot. Every surf in the Maldives will be different from the next, even if surfing at the same spot each day. Surfing with a guide ensures that your session will be fun, safe and you will experience your own sense of tropical surf stoke!
SECRET PARADISE'S TOP 5 SURF TRIP TIPS
Do some surf training and paddling before arriving in the Maldives for your surf trip – the currents can be strong!
Pack tropical wax as the water is around 28 degrees Celsius. The sun is also very extreme, as the Maldives crosses the equator.
Bring booties as they are great for protecting your feet from nasty urchin infections and reef cuts.
Learn how to tell which way the current is flowing. This can be a little challenging to determine. Look for nearby anchored boats. See which direction the back of the boats are facing and this will tell you the direction in which the current is pulling towards.
Pack a basic first aid kit and surfing kit with accessories like leg ropes, fins and repair resin.
Dreaming of surfing and watersports in the Maldives?
Book our 7 Night Multi Activity Adventure Holiday
Guaranteed Fun + No Experience Needed
If you are a more active traveller with a sense of adventure and an interest in water sports, our multi activity holiday is just for you! Try your hand at sea kayaking, windsurfing, surfing, snorkeling and scuba diving. All activities include a coaching session with your own instructor should you be new to the sport or need a refresher.
Based on Gan in the southern atoll of Laamu, the island boasts an unusual red-tinted lake and an 8km stretch of white sand, making it the longest beach in the Maldives. With accommodation in a deluxe beach front hotel equipped with a plunge pool, gym and wellness centre you can be sure to add some relaxation!