SECRET PARADISE ATTENDS IMTM SUSTAINABLE TOURISM FORUM
What an awesome weekend we had discussing and debating Sustainable Tourism in the Maldives. On Saturday and Sunday, Co-Founder Ruth and Tour Leader, Mash, attended the Sustainable Tourism Forum (STF) 2022, organised by the International Maldives Travel Market (IMTM).

The primary objective of the 2022 STF was to identify and develop a criteria for the future of sustainable tourism in the Maldives. From this, a policy paper on the findings and recommendations to strengthen sustainability in the tourism sector will be presented to government departments and official tourism related bodies.

The theme of the forum "What is Sustainable Tourism: Interpretations and Discourses of Sustainable Tourism in the Maldives" offered a timely contribution to the Maldivian tourism sector which is marking its 50th anniversary this year.

As the industry celebrates this important milestone, it is important to understand how tourism has been carried out in the past, how it has progressed in tandem with national and global development and advancements. The important lessons offered are critical to ensure that tourism activities and benefits are sustained for future generations.

The two days were a collaboration of various sectors of the Maldives tourism industry, including resorts, guesthouses and liveaboards, private sector tourism related businesses, independent institutions, the United Nations and relevant government, scientific and academic bodies. What was evident was that everyone attending believed in responsible tourism and sustainability. Conversation and discussions were passionate, as well as challenging, with representatives engaged in panel debates on day one, and discussion groups and presentations on day two. A true reflection of collaboration, which is as it should be under the banner of sustainability.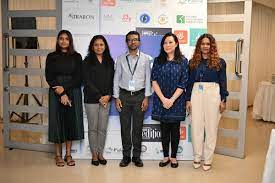 The Deputy Tourism Minister, Dr. Naushad Mohamed, stated in his keynote speech that there was 'the need for tourism stakeholders to work together to transform the industry' in order to achieve sustainability as a destination. He also highlighted that The Maldives 5th Tourism Master Plan was soon to be published and a Blue Seal Standard for local island guesthouses and hotels was to be introduced.

The guest of honor, Vera Hakim, UNDP Deputy Resident Representative, spoke about how tourism was a catalyst for growth and that destinations needed to manage the adverse effects of tourism to create a net positive outcome. Ms Hakim highlighted how the current travel and tourism model of consumption bears pressure on both the environment and communities and that as consumers and operators we can no longer keep borrowing, it is time to give back. Ms Hakim concluded her speech stating the choices we make today will determine the path of our future.

Aishath Azfa, Sustainable Development Specialist, in her presentation Tourism sustainability: changing concepts and trajectories highlighted how all economic development actions came at a cost to the natural environment and resources. This does not necessarily mean all development must cease but that it was the way development is carried out that matters. She went on to highlight that the Maldives 'has come a long way from our humble beginning half a century ago. Our tourism concept and trajectories are shifting rapidly. There have been numerous benefits of tourism to the country, but there have been multiple trade-offs'.

Ms Azfa asked those present to cast a vote on a virtual poll platform answering the question 'Is the Maldivian tourism sector sustainable'? The result highlighted that 75% of those present did not believe the Maldives to be sustainable. Ruth believes that as a destination the Maldives has a journey to make to achieve full sustainability but there are many great examples of sustainability and responsible tourism in practice throughout the industry. She feels that these need to be highlighted more aggressively when promoting the Maldives in order to build traveller awareness and to inspire other stakeholders to follow and take action.

Aminath Shadhun, Tourism Sustainability Specialist, noted that sustainable tourism is not a type or form of tourism and in order to achieve sustainability, principles and guidelines are required to ensure that all stakeholders are following the same path, which in turn will result in financial sustainability. Ms Shadhun also noted that the Maldives had been awarded Leading Destination of the Year for the 3rd year running and suggested that the Maldives has the capacity to become a leading destination among small islands for Sustainable Tourism practices also.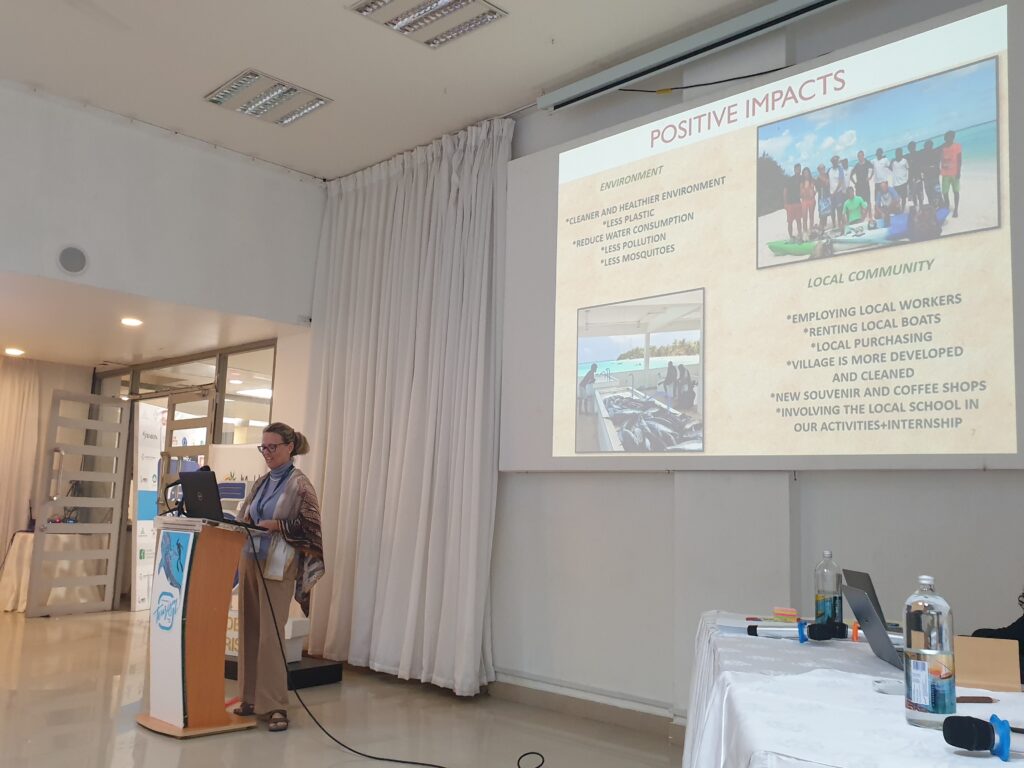 Following the opening addresses and presentations the day was broken into three themes – Sustainable Oceans, Sustainability in Practice and Working in Local Communities. Presentations were delivered by eight external speakers from within the Maldives tourism industry. Each speaker shared their insight into how they defined and perceived sustainability within the tourism industry, together with an overview of the work or projects they were involved in, which included obstacles faced and lessons learnt. Following each theme the presenters took questions from the audience, which in some instances led to lively discussions!

Sustainable Oceans
Ensuring Sustainable Resort Coral Reef Fisheries in the Maldives, presented by Jake Edmiston and Afaaz Zahid, Blue Marine Foundation
Noo Raajje, presented by Moosa Zameer Hassan and Dr. Shaistha Mohamed, NooRaajje
Plotting a course towards sustainable nautical tourism, presented by M.H Jiffry, Maldives Holiday Collection

Sustainability in Practice
The Barefoot, presented by Rafaella Colleoni, The Barefoot Eco Hotel
Fairmont Maldives Sustainability Lab, presented by Samuel Dixon, Fairmont Maldives Sirru Fen Fushi
The Sustainable Side of Life, presented by Amandine Vuylsteke, Raffles Maldives Meradhoo

Working in Local Communities
Community Based Tourism presented by Ruth Franklin, Secret Paradise Maldives
Unforgettable and Sustainable Experiences presented by Hugo Pedrosa, Ecoboo Maldives.

Given the diversity within the tourism industry, the definition and interpretations of what constitutes a 'sustainability' could have differed significantly among the various theme presenters, but it was fair to say that everyone in some way underpinned the values of others in the room, regardless of the business or organisation they represented.
Collaboration at all levels including local communities is essential.
We must aim to minimize negative impacts of tourism while maximizing the positive ones.
Success will require focus, adaption and long-term thinking. Change does not often happen overnight.
We must interact with the environment in a way that ensures there will be enough resources left for future generations.
We need to create conscious and responsible consumption.
Continually drive awareness through communication and education.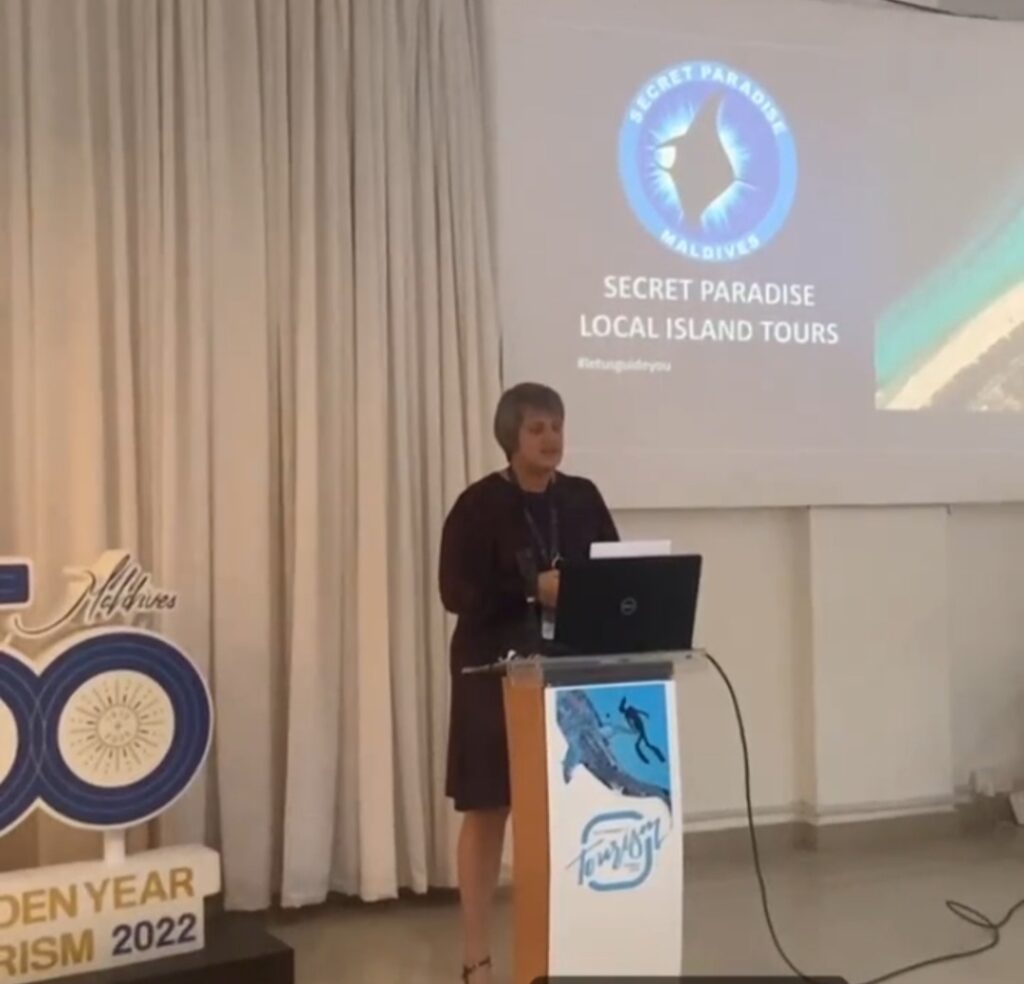 Day two brought all participants together in 6 groups to discuss 'What are the criterions for sustainable tourism in the Maldives?' under the heading of the three pillars of sustainability – social, economic and environment. Following 2 hours of discussion, each group was provided the opportunity to present their thoughts and the key actions they believe need to be taken to ensure that the Maldives, its people, environment and economy is sustained for future generations. From these presentations a policy paper including the group recommendations to strengthen sustainability in the tourism sector will be presented to government departments and official tourism related bodies.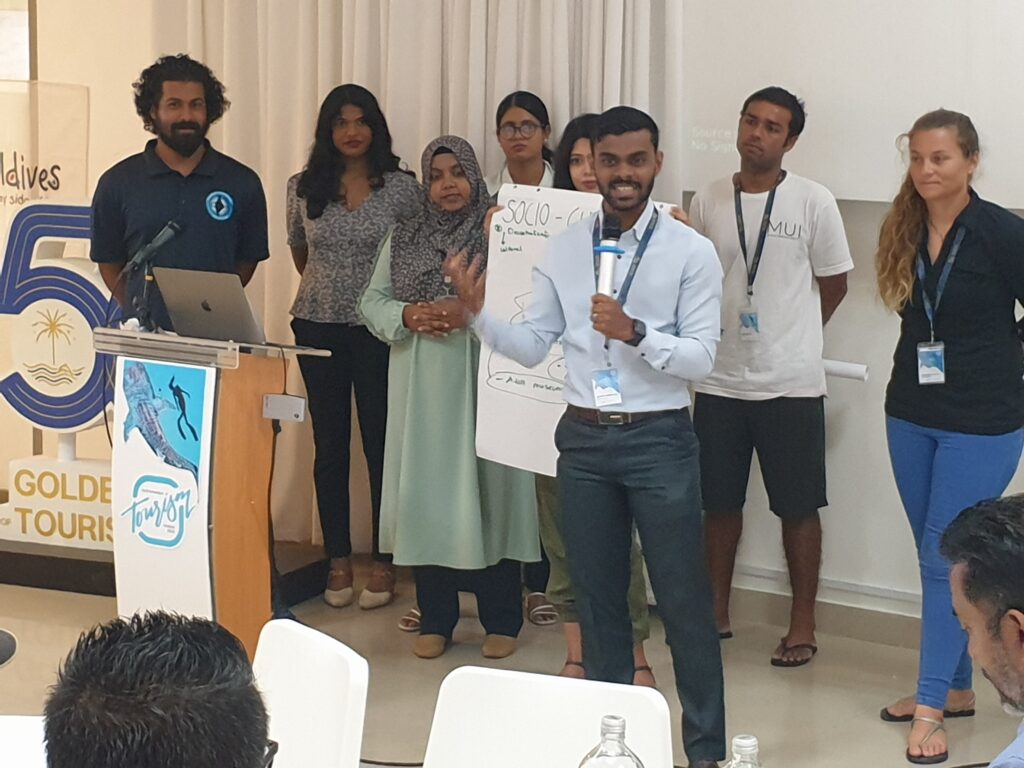 Ruth sums up the event. 'It was a very positive and inspiring two days. I am sure all who attended are looking forward to reviewing the draft policy paper before its final submission. It is evident that there is a strong voice supporting sustainable tourism and development in the Maldives and I hope that this voice will only get louder and stronger as more stakeholders join the conversation and take actions towards sustainable tourism'.

"There is no time to waste. Let us rethink and reinvent tourism and together, deliver a more sustainable, prosperous and resilient future for all" UN Secretary General, Antonio Guterres.