A Look Back at Life During Lock Down in the Maldives
It has been almost 8 weeks since the government ordered a city-wide quarantine as the Covid-19 situation started to get worse in the Maldives. At this point the Secret Paradise and its team had been in self isolation from mid-March on wards following the departure of our final guests.
Back in March and the beginning of April, I still had some semblance of freedom before quarantine, where I was able to go out and at least get groceries. But for the most part I kept myself at home. Knowing that I still had the freedom to step outside put my mind at ease and the panic at bay. Then came the day the first positive case of Covid-19 surfaced in Male' city.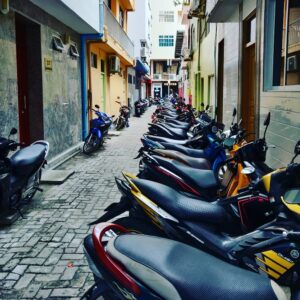 I remember that morning clearly. News had traveled fast through the city. It was pandemonium. Everybody was rushing around trying to get their affairs in order. My wife was at work and I remember asking her to rush home. We didn't have time to stock up on groceries properly. Just some items my wife had bought on the way home.
Sharp 15:00 that day, the government ordered us to quarantine ourselves at home. It had become law. We were not to go outside at all. That little window of freedom to step outside faded away in an instant, within the confinements of four walls and panic slowly set in.
Sitting and twiddling my thumbs meant I would give in to the worry and stress. I wouldn't get any where with that. So, I threw myself in to work, work that I was fortunate enough to have as Secret Paradise was still in operation with all staff on board, working hard from home.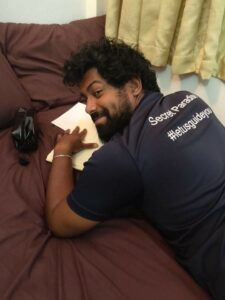 It was a blessing. A blessing many didn't have. Most of the civilians came home terminated from work, on half pay or on no pay leave. It was devastating but it was the harsh reality as the economy took a downturn. The city turned in to a ghost town. From restaurants, to cafes, to companies, to schools, all closed down.
Requests for groceries were piling in to grocery stores in the thousands. Deliveries were getting delayed some for more than five days. Due to this some households were running out of necessities while they waited. To counter this the government started issuing permits for one citizen from every household to be able to venture out every three days to get the necessities they needed.
Having experienced the delays in delivery myself I applied for a permit and received one. It was risky to venture out but it was necessary. We were running out of food and badly needed to stock up. What was once a busy capital full of life was now empty and lifeless. Barely more than five people were seen in your own district, hurrying to get necessities and running back to the safety of their homes.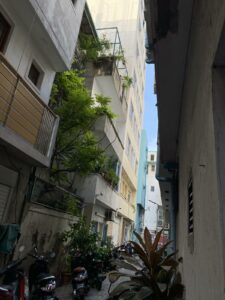 Slowly but surely, I started getting used to life in quarantine. Some days it was really hard to get up in the morning and be positive while being confined to one place. It was even harder when the fasting month arrived, because this is usually a time where families and friends gathered together more than often to celebrate this holy month. That being said, there were good days too.
I discovered what boredom really feels like and the upside to that. Boredom tends to bring out the creative side of you just to escape from that feeling of being weary and impatience. So, when the Secret Paradise team were given tasks to make a short vlog about any topic they wanted even if it was something they use daily in the house, I decided to make a vlog about historical sites in Male'. This is how my virtual tour of Male' city was born.
It would be a lie if I said I don't miss the world outside. I do. I miss being in the ocean. Interacting with guests. Playing with cats in the office. I miss morning coffee with my colleagues and boss right before work starts. I asked my colleagues about how they were faring in quarantine. They were adjusting well and spending quality time with their families but, like me they missed the outside world and the little things they do in their daily life.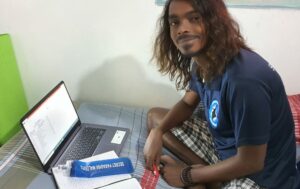 After experiencing over a month in strict lock down, I begin to understand the situation people are facing around the globe. The difficulties in acquiring necessities. Losing jobs. Being cooped up inside for far too long.
Currently, Male' is easing lock down so that the economy can survive. Other than grocery stores, private businesses and shops are opening. Some restaurants are allowed to open but only as a takeaway. 3 people from a household are allowed to venture out on two separate days for two hours to acquire necessary items and from the 15th permits are no longer required.
Hopefully the situation improves but if not, lock down may be put back in place. What I have to say for my fellow Maldivians and people around the world is, stay safe and understand this situation for what it is. Focus on what you want to do and what is right for you.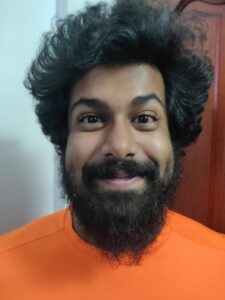 Physically distancing yourself from people doesn't mean you socially distance yourself from the outside world. Keep in touch with your family and loved ones. You need it and they really need it too.