WHAT IS IT LIKE FLYING TO THE MALDIVES?
As we head towards the end of 2020 it is encouraging to see that the Maldives reached it's first mile stone of  100,000 tourist arrivals since borders reopened in July 2020.
So whilst there are many people who are ready and willing to travel, we also understand that there are those who wish to wait until the time is right for them. Whichever category of traveler you may be, we know that travel information and destination guidelines together with feedback from those that have experienced travel in the new normal is frequently being searched  for on the internet.
With this in mind we asked one of friends, Neil, to share his experience of returning to the Maldives earlier this week.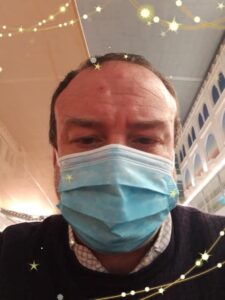 "Throughout my career, I have been very fortunate and have traveled far and wide. I have sat at the front and at the back of a plane. I have experienced the most amazing in flight service, through to the utter worst, having to pay for everything and also on occasion having the luxury not having to pay for anything onboard!
Flying has certainly changed since I took my first flight many years ago and it continues to do so every year. For sure no one could have predicted that 2020 would see flights grounded, planes just sat on tarmacs, waiting to fly once more and airlines fighting for survival.
As the UK's second lock down drew to a close I found myself once again preparing to fly to the Maldives, this time under very different circumstances and with so much information to understand! I found the travel guidelines provided by Secret Paradise, both on their website and in the information provided to me, easy to understand and follow.
TOP TRAVEL TIP
Read the documents and information provided to you by your travel planner/agent or tour operator. Don't just skim the small print or wait to read the pre- trip documentation until you are on board your flight. In today's world of travel not being prepared may mean the loss of a holiday. 
PCR TESTING
When it came to requiring a negative PCR test prior to departure, this for sure can cause some anxious moments. The test has to be completed within 96 hours prior to departure and as my plans to travel were last minute I was unable to secure an appointment at my first choice, Boots the Chemist, within the time frame I was looking for.
As my travel was imminent I opted for a private test through 'Assured' it was cheaper than Boots, however you have to do the test yourself.  The kit had everything that you require, with very clear guidelines and instructions on how it should be done and completed.
I completed the test and sent it off in a pre-paid envelope through Royal Mail on the Wednesday. A courier option at your own expense is also available. Hopefully the result would be back in time for my flight booked on the Friday, they advise 24 hours from receipt of test sample. Friday morning arrived along with an email advising that they had received the test and were currently processing, with results due later that day! Due to distance to the airport and the time of my flight I didn't want to take a chance and therefore decided to move my flight to the next day. I did indeed receive my test result that afternoon, it was negative and I could finally breathe a sigh of relief.
TOP TRAVEL TIP
Do your research and don't be afraid to ask for advice or recommendations. There are so many options for PCR testing available here in the UK and no doubt wherever you may travel from.
Book in advance to ensure you don't get caught out!
Have a back up plan in the event your test results are delayed or you require a re-test. If you are in the UK for instance there is a walk in testing centre at the Heathrow Sofitel Hotel.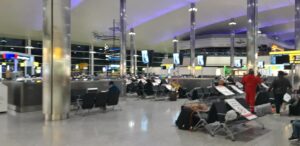 CHECKING IN AT THE AIRPORT
Upon arrival at Heathrow airport there was just one entry and one exit only where social distancing was requested by officials. Although once inside the terminal, this was clearly an issue due partly to the airport layout, there is only one terminal currently open, but also due to the number of passengers at the time of my check in and that social distancing was unfortunately not being followed or encouraged by airport staff.
Check in was a straight forward process. They checked that the PCR test had correct personal details, the name of the clinic and that it was negative. I was also asked to show the QR code which you get once you submit the online health declaration form. They also checked that the property where I had my accommodation booked was listed on their approved list.
The departure lounge area was quiet and many of the usual shops and outlets were not open, so anything specific you need or require make sure you have purchased before your flight and don't rely on picking it up at the airport.
TOP TRAVEL TIP
Make sure you have a printed copy of the PCR test certificate.
Check that your resort / guest house is on the Ministry of Tourism approved list.
Complete the online IMUGA Health Declaration form before check in.
Ensure you have any items you need, as not all duty free shops are open once you go through the security check.
Have a small hand sanitizer easily available, I have one that clips onto my hand luggage.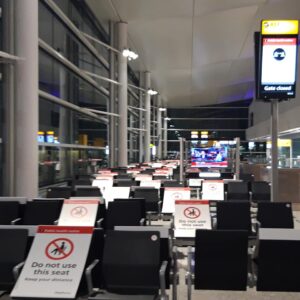 ON BOARD FLIGHT
Boarding the flight was for some another anxious moment as a few passengers were oblivious to the need to social distance. The airline support staff had to keep advising passengers to keep their distance and also to keep
away from the boarding area until seat numbers were called.
Once onboard the flight we were asked to remain in our seat and not to move around unless we needed the bathroom facilities. For me it was a night flight and I planned to sleep for most of it!
Emirates did not provide a plastic face shield although other airlines such as Qatar do. They did provide a kit containing 3 masks, 3 wipes and 3 sanitizer packs. We were advised as part of the in flight briefing to wear a mask at all times when not eating or drinking and to dispose of masks in a bag provided. Wearing a mask throughout the flight was actually not as bad as I had anticipated and I was able to sleep with no discomfort at all.
TOP TRAVEL TIP
Wear a mask that you know you will be comfortable in.
Consider a mask that ties behind the head to avoid sore ears.
Carry replacement masks in a sealed bag or container.
Service on board had altered only in that the drinks service offered beer, wine and non-alcoholic beverages poured for you, no miniature bottles provided. The meal itself had not changed and this was followed by a tea and coffee service.  The in flight entertainment system was fully operational but there were no in flight magazines in the seat pocket. Duty Free was also offered.
The flight was full from London through to Dubai but not as busy Dubai to Male. The transfer in Dubai was quick and effortless. I was asked to show the PCR test certificate and the QR code once again.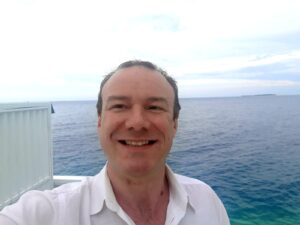 ARRIVAL IN THE MALDIVES
In order to control numbers within the arrival terminal we had to wait a short time. Our flight was parked at the end of the runway and we were taken by bus to the arrival hall. Be prepared for the usual mad rush to disembark the plane.
Once in the terminal, my temperature was taken, unfortunately the markings on the floor here are unclear, so unless you maintain social distance everyone stands in a regular line. At the immigration counters the markings are more visible. Make sure you have your passport, boarding ticket and IMUGA Health Declaration QR code ready to be shown. If due to the length of flight, 24 hours has expired since you completed the form it will need to be  completed again. You will find there are a small number of computers that have been set up to facilitate this process.
Through immigration to get your luggage, nothing new or different here, but again there were no clear markings as to where people should stand. Finally, with bags in tow, I made my way through into the arrival hall to be greeted by smiling faces, well one assumes – due to the masks. Mash from Secret Paradise welcomed me back to the Maldives and I once again felt relaxed and at home!
The overall experience can start off with anxiety, as you wait for the PCR test result to come back in a timely manner and the hope that it is a negative test result. Otherwise, providing I established my own social distancing rules at the congested points in the airports, I felt safe and comfortable throughout the journey and now that I have spent a few days in the Maldives, feel myself to be in a far safer environment than back home."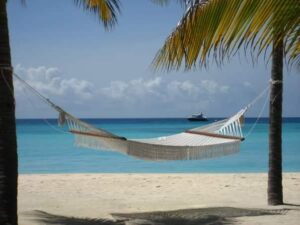 WHY THE MALDIVES IS A SAFE DESTINATION
The Maldives does have a distinct geographic advantage as an archipelago. Individual islands provide a natural safe environment for visitors, especially if there are controls in place when entering and leaving. These individual resorts or local community islands can also be quickly shut down if a suspected case emerges, which was seen at the beginning of the pandemic.
The Maldives government and tourism industry have created a robust set of guidelines and requirements for all aspects of the guest journey, from arrival to departure.  These guidelines reduce the risk for the guest, locals and tourism industry workers.
All tourism accommodation providers have to receive approval from the Ministry of Tourism in order to re start operations. Many resorts and tourism businesses have ensured they offer additional safety procedures over and above the government guidelines, which on some resorts include PCR testing upon arrival at the property.
At Secret Paradise we have worked hard to create our own 'new normal' in line with Maldives Safe Tourism Guidelines and those of the World Tourism Council, to ensure our guest's feel comfortable and safe, without losing the memorable aspects of our experiences and service .
Want to find out how you can experience the Maldives in a safe and secure way? Take a visit to our website and select from tours, cruises and accommodation.
The team at Secret Paradise have you covered. #letusguideyou